Murray Gracie admits shooting Mark Laird in Carluke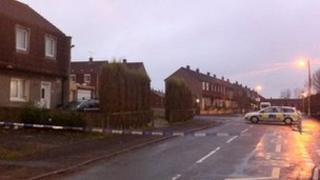 A teenager has admitted shooting his friend during an unprovoked attack in South Lanarkshire.
Murray Gracie, 18, wounded 28-year-old Mark Laird outside the victim's home in Carluke on 8 January this year.
The High Court in Glasgow heard how Gracie had a fascination for guns and had a history of mental illness.
Judge Lady Stacey imposed an interim compulsion order for Gracie to remain at the State Hospital in Carstairs. He will return to the dock in December.
Gracie admitted a string of charges, including assault and other gun-related offences.
Shooting at police
The court heard how as far back as March 2010, Gracie had spoken about getting hold of a gun and shooting at police.
He later had "on-going pre-occupying thoughts" of sourcing a firearm.
The court was told that on the night of the shooting, Gracie had texted Mr Laird to ask where he was. Mr Laird replied that he was in his house.
About 23:20, the 28-year-old was outside having a cigarette when he heard a car and then saw Gracie walking towards him.
Mr Laird said: "What's happening, Murray?"
Gracie replied: "I don't know - what is happening?"
Mr Laird then spotted the teenager was armed with a sawn-off double-barrelled shotgun.
He quickly turned back towards his front door before hearing a loud bang and then feeling a searing pain in his body.
The court was told that Mr Laird was shot while his partner and seven-month-old daughter were inside the house.
Pellets removed
He was taken to hospital, where a total of 22 shotgun pellets were picked out of his back.
Following the shooting, Gracie drove to the nearby home of his ex-partner Laura Donnelly.
She had been going to her bed at around midnight when there was a loud bang and she ended up covered in broken glass.
Her family heard her screams before noticing Gracie fleeing the scene.
When police arrived a total of 16 pellets were found in the hallway.
About 01:00 the following day, officers spotted Gracie getting out of his car and running at their vehicle with the shotgun.
The officers reversed at speed while Gracie returned to his car and sped after them.
A firearms unit was alerted and they followed Gracie until he eventually stopped his car at a retail park in Hamilton, Lanarkshire. The shotgun was found in his vehicle.
Gracie, who was wearing body armour, claimed he would have fired more shots had the barrel of the weapon not been broken.
His family home was later searched and a bullet cartridge was discovered inside a toy car while a similar item was discovered in his bedroom and the garage.