George Square set for £15m revamp ahead of 2014 Games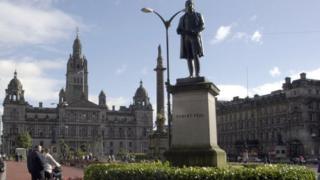 Glasgow's George Square is to undergo a £15m makeover, designed to bring back its "lost grandeur" before the city hosts the 2014 Commonwealth Games.
The proposals would see 13 monuments - excluding the cenotaph - temporarily relocated to other parts of the city.
The square's distinctive red tarmac would also be ripped up and resurfaced, with flower beds and lighting removed.
A design competition will be staged later this year, followed by a public exhibition and consultation.
Proposals for the scheme are set to be approved by Glasgow City Council's executive committee on Thursday.
'Grande Place'
A report going before councillors said George Square was first conceived in the 18th Century and was regarded as "Glasgow's Grande Place".
The report continues: "It began as a garden with trees, lawns and fences, and over time was inhabited by statues celebrating the great men of the time.
"However, like most post-industrial cities of the late 20th Century, the pressures applied to the use of public spaces are significant, and it has been compromised to such an extent that its loss of status and dignity is all too apparent."
The report recommends "a wholesale re-examination of its image and functions in order that it can be regarded as a place fit for the 21st Century, and to once again enhance Glasgow's reputation as an international city".
It envisages a new space which will be "Glasgow's primary urban space", with a "day and night environment" that supports creativity and is a "world class tourist destination".
To this end, the report recommends the removal of statues "as a temporary measure", which would allow "a comprehensive conservation plan to be implemented in partnership with Historic Scotland".
Design competition
The red tarmac would be replaced with a new surface and existing flowerbeds and lighting would be removed to create a "blank canvas" for the new design.
A design brief will be issued for the new space after the council meeting, with a shortlist of submissions expected by 12 October.
The formal design competition will get under way before a public exhibition and consultation runs in November and December.
The report envisages that a winning design will go before the council in January next year, with work starting during April 2013.
Phase one of the project, the report states, should be complete by April 2014, in time for the Commonwealth Games.