Famine memorial moves approved by Glasgow City Council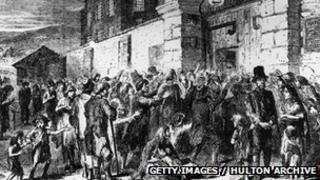 Plans are being drawn up for a memorial in Glasgow to those who perished in the potato famine which blighted Ireland and the Scottish Highlands.
The city council is to set up a working group to examine the nature of the memorial and where it may be sited.
The group will meet within weeks and report back by the end of next summer.
Partick West Councillor Feargal Dalton, who proposed the memorial, said it would help acknowledge and celebrate Glasgow's cultural diversity.
Councillor Dalton's motion secured the agreement of fellow members that the potato famine had had a significant cultural, economic and social impact on the modern day character of Glasgow.
'Physical recognition'
Seconded by Southside Central councillor Bailie James Scanlon, the motion also recognised the efforts made by Glaswegians to provide relief and sanctuary to those affected at the time.
Councillor Dalton said: "A memorial will bring us into line with other great cities such as New York, where they make sure to acknowledge and celebrate their diversity.
"We also celebrate our diversity in Glasgow and any memorial will simply be a physical recognition of that fact.
"A memorial will highlight that in a world of continuing poverty and famine, Glasgow is very firmly on the side of justice and is a beacon of hope to those in the world who continue to suffer."
Bailie Scanlon added: "Both the Irish and Highland famines drew thousands and thousands of migrants to Glasgow in a state of desperate need.
"These tragic events have had a huge influence on our city and it is right that they are commemorated."