Glasgow libraries to offer cancer support services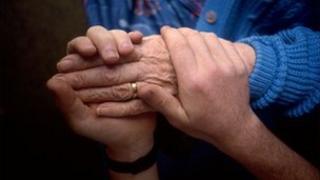 Cancer support and information services will be offered in libraries across Glasgow in what is thought to be the first project of its kind in the UK.
Macmillan Cancer Support and Glasgow Life are working together to ensure every cancer patient in the city can get help within their local community.
Trained volunteers will be available in 25 libraries across the city offering emotional and practical guidance.
The charity hopes the scheme will be a model for the rest of Scotland.
A Macmillan Service Delivery Manager will lead each team, which can also refer people to other services the charity offers.
Macmillan's general manager in Scotland Allan Cowie said: "We are delighted to have made Glasgow the first place in the UK where everyone affected by cancer can get information and support in their local community.
"When someone is diagnosed with cancer or a loved one is diagnosed, they have lots of questions and concerns."
'No waiting'
He added: "They shouldn't have to wait until their next hospital appointment to get answers or have to travel across the city to get support.
"This project will allow everyone with cancer or their friends and families to access the support and information they need on their doorstep, something we know is very important to people at a very difficult time."
The Macmillan support and information centres are currently open in Pollok, Dennistoun, Easterhouse, Springburn and the city's Mitchell Library, with the rest of the centres to open over the next year.
Cancer Support Scotland, another partner in the service, will offer counselling and complementary therapies in some libraries.
Tommy Nugent, who was diagnosed with cancer in 2009 and uses the Easterhouse library support service, said: "Finding the Macmillan project in my local library helped me tremendously.
"The fact I could walk to it was great, when you are going through cancer you can feel really quite ill and travelling is not something you want to do.
"The cost of travelling could also put people off even attempting to access support so I'm glad to see similar services are being put in libraries across the city."