Crawford and McDevitt guilty of Michael Herbison murder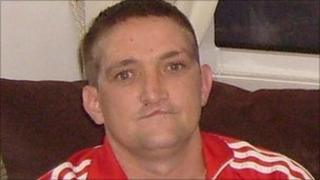 Two men have been convicted of brutally murdering a man and dumping his body in the River Leven in West Dunbartonshire.
Stephen Crawford, 24, and 20-year-old Darren McDevitt repeatedly stabbed Michael Herbison on a cycle path in Renton on 29 August 2011.
The 35-year-old's body was recovered from the water near the town's Dalquhurn Estate the following day.
Crawford and McDevitt, both from Dumbarton, face mandatory life terms when they are sentenced next month.
A third man, 29-year-old Nicky Gordon, also from Dumbarton, was charged with murdering Mr Herbison but the Crown withdrew the charge at the close of its case.
Air rifle
The High Court in Glasgow heard that Mr Herbison had attended a party with Crawford and McDevitt in Tontine Park on the night he was murdered.
After 21:00, Mr Herbison left to buy alcohol and cigarettes and told a friend he was then going to meet Crawford at the Polaroid bridge on the river towpath at Renton.
Crawford and McDevitt were seen leaving the party after Mr Herbison.
They had an air rifle with them and said they were going to shoot rats down by the river.
The jury accepted the Crown's case that during the subsequent meeting, both accused attacked and killed Mr Herbison, with no reason given for the incident.
The court was told that the pair repeatedly stabbed Mr Herbison and shot him on the right buttock with an air rifle.
The fatal stab wound cut the two main blood vessels in the abdomen. As Mr Herbison lay dying, the pair stripped off his clothing and threw his body into the river.
Pathologist Dr Marjorie Turner said the fatal stab wound penetrated 11 cms and there would have been massive blood loss.
Mr Herbison also had a slash wound on his face and a number of scratches which could have been caused by being dragged along the ground or by hitting rocks when he went into the River Leven.
False alibis
She also told the court that Mr Herbison "may have inhaled water and that drowning may have been a factor in his death", although he would have died from the stab wounds alone.
His body was recovered from the river by police divers the following day.
The trial heard that even while police were treating the case as that of a missing person both men made up false alibis for the night of the murder.
After the killing McDevitt was heard to say: "We've done him".
Forensic analysis of Crawford's shoes revealed spots of Mr Herbison's blood on them.
Both men now face mandatory life terms following their convictions by a majority guilty verdict.
Serious crime
Judge Lord Matthews deferred sentence on both until next month for background reports.
He will then determine how long each must serve before being eligible to apply for parole.
Speaking after Crawford and McDevitt's convictions, west of Scotland procurator fiscal John Dunn said: "Michael Herbison was violently murdered by these men in a cowardly and apparently motiveless attack.
"Taking the life of another is clearly the most serious of crimes and crimes which involve knives will continue to be dealt with as amongst the most serious crimes we require to address within our society.
"I would like to express my sincere condolences to Mr Herbison's family and friends. I cannot imagine the mental anguish they have suffered because of the actions of these men."