Michael McInness admits killing Robbie Dickie by dangerous driving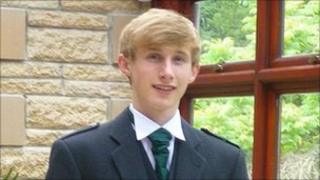 A man who knocked down and killed a teenager in a hit-and-run incident in South Ayrshire has admitted causing death by dangerous driving.
Robert Dickie, 17, was fatally injured after being hit by a car driven by 21-year-old Michael McInness in Chapelpark Road, Ayr, on 1 September last year.
The High Court in Glasgow heard how McInness drove off after he and friends had checked on the injured teenager.
Sentence and McInness was deferred and he was remanded in custody.
The court heard how Mr Dickie died shortly after celebrating with friends, who had thrown a surprise party before he was due to start an architecture degree at university.
Alcohol consumed
While he was out celebrating, McInness was also attending a night out with his brother and friends.
He was driving them home in his Peugeot car when the vehicle collided with Mr Dickie at about 03:10 on 1 September.
Prosecutor Stephen O'Rourke said McInnes had earlier drank half a bottle of Buckfast and a bottle of beer at a friend's flat. He later stuck to soft drinks while in the club.
The court was told how one of McInnes passengers felt he was "showing off" during the the car journey as the vehicle weaved from side to side.
McInnes's friends later joked with him about the condition of the car and the accused partially turned his head to speak to them.
Passengers soon spotted a shape in the road which turned out to be Mr Dickie.
Mr O'Rourke told the court it was "not clear" how he had come to be on the road.
The advocate depute went on: "Someone within the car shouted and, as the accused turned his attention back to the road in front of him, it was too late and he struck Robert Dickie.
"The front and then rear offside wheels went over his body."
McInnes initially drove around a corner before stopping and rushing back with his friends to examine Mr Dickie.
'Something bad happened'
After the teenager was checked for a pulse by one of the group, McInnes returned to his vehicle and drove off.
Mr Dickie, from Ayr, died at the scene after suffering a broken neck as well as fractured ribs and a gaping wound to his head.
McInnes, also of Ayr, was traced by police later that morning after being spotted sitting in his car.
He told officers: "Something bad happened last night. There was a boy lying on the road or what I thought was a boy and we struck him. We got out to see and I drove off."
Despite the alcohol McInnes had earlier taken, tests confirmed he was not over the drink drive limit.
Judge Lady Stacey deferred sentencing until next month for reports.