Tender announced for Clyde and Hebridean ferry routes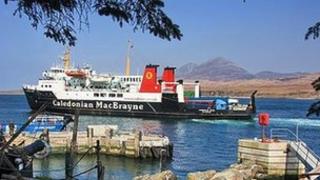 Scottish ministers have decided to tender for the new Clyde and Hebrides Ferries Services in the autumn of 2014.
Firms will be invited to submit bids for the routes as a single contract.
In the meantime, a new three-year interim contract will be put in place with the existing operator, CalMac.
Transport Minister Keith Brown said "no compelling case" had been made that "tendering individual routes or unbundling the current contract" would lead to greater benefits.
He said: "We are providing record investment to deliver new cutting edge vessels, new ports and harbour infrastructure fit for the 21st century, and we want to see that continue.
'Allay fears'
"To this end, I can confirm that we intend to take forward the procurement of the new contract for the Clyde and Hebrides Ferry Services as a single contract.
"We have looked closely at the options available to us to drive up ferry service standards and no compelling case that tendering individual routes or unbundling the current contract has been put to me.
"This decision will allay fears stoked by some that we are seeking to break up routes for individual operators to run."
The announcement was given an "enthusiastic welcome" by the Scottish Trades Union Congress (STUC).
In a statement, the STUC said: "The unequivocal commitment to tender the routes as a single contract and the decision to set in place a new interim contract represent a sensible and pragmatic way forward.
"Following a very constructive meeting with the minister this morning, we also welcome the Scottish government's commitment to establish a structured process to progress complex issues around how pensions are dealt with in future contracts.
"After a prolonged period of uncertainty, ferry workers will today believe their futures are more secure."
Business organisation CBI Scotland said, however, that it was "disappointed" by the decision to tender the routes on a single contract basis.
Director Iain McMillan said: "The Scottish government's own ferries review and draft plan provided ministers with a fresh opportunity to develop a more efficient and responsive service by opening up the market to competition, leading to improvements in service and better consumer choice."