Ayrshire police officer Peter Cullen cleared of assault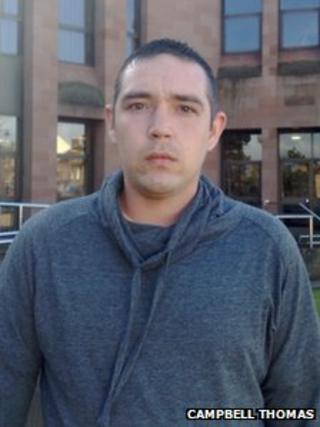 A police officer who kneed a prisoner on the head has been cleared of assault.
Constable Peter Cullen, 32, was found not guilty by a majority verdict at Kilmarnock Sheriff Court.
The prisoner, William Cree, was taken to hospital after collapsing with a head injury which, it was suggested, was caused by running into a door.
PC Cullen had insisted his actions at Saltcoats police office in Ayrshire were in self-defence.
He said he feared Mr Cree was about to bite him while pinned down.
He denied assaulting 25-year-old Mr Cree to his injury and permanent disfigurement last November.
The court heard that another police officer, Steven Gilmour, had witnessed blows and heard a noise like cartilage breaking.
It emerged in court that PC Cullen had previously given PC Gilmour a row for shooting a home-made firearm on duty.
Cross-examined by defence counsel Joe Cahill, the officer admitted building a potato-firing "spud gun" from parts bought online.
After PC Cullen was cleared of the assault charge, William Cree called the outcome "a joke".
A spokeswoman for Strathclyde Police said: "A report on the circumstances will be submitted to the deputy chief constable for his consideration."