Glasgow 2014 Games preparations 'best in 20 years'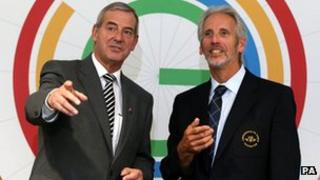 Preparations for Glasgow 2014 are the best for any Commonwealth Games in the past 20 years, according to the Commonwealth Games Federation (CGF).
The CGF co-ordination commission held its latest official inspection on Thursday.
Chairman Bruce Robertson said he was "particularly impressed" with the completed velodrome complex and the developing athletes' village.
He called the legacy plans a "blueprint" for future Games.
Mr Robertson said: "From what I have seen at this stage in the project, with the quality of work they have done, I would say they are the best prepared that I have seen in the last number of games.
"It is going to be fantastic, the village is first class, I think spectators, Glaswegians, all Scots are going to have a fantastic time.
"After the competition is over - central Glasgow, the arenas - it will provide a lot of pluses for the city."
Lord Smith of Kelvin, chairman of the 2014 organising committee, said Glasgow was already benefiting from the Games.
He said: "What Bruce and his team said today about the athletes village, it's the best they have seen.
"We have the Chris Hoy velodrome, we have the indoor sports arena, now called Emirates.
"If you go to any of these venues now, you see young Scottish people in them, so its is legacy today, not after the games, we are getting legacy benefits right now."