Huge section of HMS Queen Elizabeth aircraft carrier set for move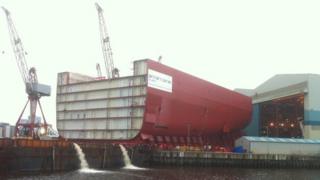 Work is under way to transfer an 11,000-tonne section of aircraft carrier from its construction site on the Clyde to the Rosyth yard in Fife.
The largest hull section of HMS Queen Elizabeth was moved out of BAE's shipbuilding hall at Govan on Sunday.
It is being loaded onto a huge sea-going barge for a five-day, 600-mile journey to Rosyth, where the carrier sections will be assembled.
When operational, HMS Queen Elizabeth will be based in Portsmouth.
It is one of two aircraft carriers being delivered for the Ministry of Defence (MoD) by BAE Systems, Thales UK and Babcock.
Active service
The 11,000-tonne aft section of hull, known as Lower Block 04, stands more than 80m (262ft) long and 40m (131ft) wide.
It houses two main engine rooms, a hospital complex, dentist, galley and accommodation including 242 berths.
When assembly is completed, HMS Queen Elizabeth will be a 280m (919ft) long carrier capable of deploying up to 40 Lockheed Martin F-35 aircraft.
The ship will not be finished until 2016 at the earliest, and may not be ready for active service until 2020.
The carrier project is one of the largest defence orders placed in the UK, with a price tag of £5bn.
Work on the Queen Elizabeth's sister ship, HMS Prince of Wales, is also under way at Govan.