Knitting event explores history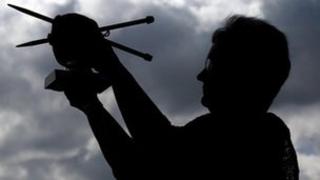 Knitters from across Scotland are to gather in Glasgow for an event which aims to explore the history and influence of the art form on Scotland.
The public study day at the Lighthouse design centre has been organised by academics at Glasgow University.
It will play host to talks that explore the history of one of the nation's most iconic industries.
The impact of knitting's resurgent popularity on Scotland's creative industries will also be explored.
The Reinventing Scotland's Woollen Traditions is expected to attract knitting professionals, experts and enthusiastic amateurs.
Its organisers said knitting has enjoyed a widespread revival in popularity in recent years, with a new generation of knitters rejuvenating one of Scotland's most recognisable and internationally renowned crafts.
'Younger generation'
Prof Lynn Abrams of the University of Glasgow, who is co-ordinating the public study day, said: "Scotland has a rich history of producing knitted textiles and a reputation in the industry that is recognised around the world.
"We want this study day and workshop to not only look at the history and heritage of the craft but also how Scottish knitting can contribute to the future of Scottish tourism and fashion.
"In recent years interest in knitting has really boomed, and this is being reflected in fashion and popular culture today.
"Knitting is no longer the pastime of an older generation, it is increasingly appealing to a younger demographic who are engaging with the idea of expressing themselves through knitting as a creative art. The advance of the internet and social media has also been key to the emergence of new close-knit communities."
She added that the growth in popularity of hand knitting had been aided by the increased use of websites such as Twitter and Pinterest, alongside more specialised knit and crochet communities, such as Ravelry and blogs which attract tens of thousands of readers.