Gold medal winners at Dunoon's Royal National Mod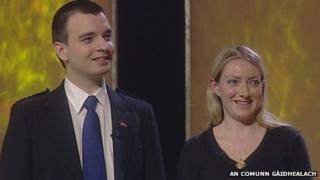 The men's and women's solo singer gold medal winners have been announced at Gaelic's Royal National Mod, which is taking place in Dunoon.
Eilidh Davis, from Invergarry, and Calum MacLeod, from Carloway, Lewis, won the honours.
The coveted Lovat and Tulibardine Shield will be awarded to the best choir on Friday.
The eight-day celebration of Gaelic music, dance, drama, arts and literature is now in its 120th year.
The Royal National Mod is organised by An Comunn Gàidhealach, the world's oldest Gaelic organisation.