Irn-Bru firm AG Barr sponsors Glasgow 2014 Games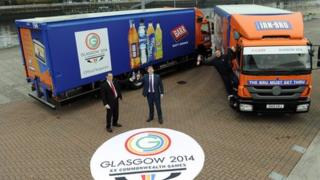 The firm behind Irn-Bru has been named as the latest sponsor of the Glasgow 2014 Commonwealth Games.
Soft drinks company AG Barr will support the event through its brands, including Irn-Bru and Strathmore spring water.
It will supply water to the athletes' village, with other drinks being made available across games venues.
AG Barr is one of the UK's largest soft drinks producers, and has links with Glasgow going back more than a century.
David Grevemberg, Glasgow 2014 chief executive, said: "I am delighted to welcome such a well-known Scottish brand into the Glasgow 2014 family of supporters".
He added: "The company has a strong track record of supporting sport at all levels from grassroots to elite and we look forward to working with them."
Roger White, AG Barr chief executive, said: "Glasgow 2014 is massively exciting, whether you're taking part, volunteering or watching.
"The games will bring something extraordinary to a very special city, and we are delighted to play our part in that."
The 20th Commonwealth Games will be held in Glasgow from 23 July to 3 August 2014.