HMS Dasher: Probe into theory dead buried in mass grave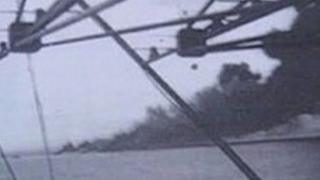 Archaeologists are excavating a graveyard in North Ayrshire in a bid to determine whether victims of a war-time sea tragedy are buried in a mass grave.
The investigation at Ardrossan Cemetery aims to establish if casualties from HMS Dasher are buried there.
The aircraft carrier sank off the town on 27 March 1943 with the loss of 379 of her 528 crew.
Of the 68 bodies recovered, 24 were buried at Ardrossan Cemetery. It is not known what happened to the other 44.
Top secret
Local historian John Steele believes some of the others who perished in the tragedy may also be buried at the cemetery.
He persuaded North Ayrshire Council to petition a court for permission to excavate part of the cemetery suspected of being a mass grave.
Preparations began at the site on Monday and a team archaeologists began their excavation on Tuesday morning.
Details of the sinking of HMS Dasher were sealed in top-secret Royal Navy Files after the war.
It is believed that leaking fuel-pipes caused the American-built carrier to explode off Arran.