Go-ahead for £390m Glasgow Buchanan Quarter revamp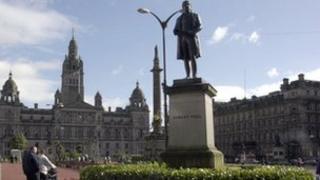 Scotland's largest local authority has been given the go-ahead to borrow £80m towards a £390m scheme to regenerate a large section of Glasgow city centre.
The Scottish government has approved plans by Glasgow City Council to raise cash through Tax Incremental Financing.
This allows cash to be borrowed against projected rises in business rates.
The money will be used to lever in an extra £310m for the Buchanan Quarter project to revamp George Square and the Buchanan Galleries shopping centre.
Under the scheme, George Square and Upper Dundas Street will be redeveloped before the Commonwealth Games in 2014.
'Modern facilities'
The Royal Concert Hall and Buchanan Street will be upgraded, the Cathedral Street bridge strengthened and access to Queen Street station improved.
The existing car park in the Buchanan Galleries will be converted to retail space with a new car park added.
Clearing the use of Tax Incremental Financing (TIF), Deputy First Minister Nicola Sturgeon said: "Big building projects like Buchanan Quarter are not just about the improved infrastructure we gain at the end, they are about the employment and the training that takes place during construction.
"This development will continue the regeneration of the city centre, improving the public spaces and creating modern, vibrant new facilities that will cement Glasgow's position as a major international destination for visitors."
The TIF scheme will allow the council to borrow £80m with the aim of levering in an additional £310m in private finance.
Bailie Liz Cameron, executive member for jobs and the economy at Glasgow City Council, said: "The Buchanan Quarter project will continue the regeneration of Glasgow and help the city centre retain its position as the biggest shopping destination in the UK outside of London.
"The delivery of the project will bring a massive economic and jobs boost and make our city centre even more attractive to shoppers and visitors.
"Buchanan Quarter is a huge vote of confidence for Glasgow, underlining the faith investors are showing in the city."
'Absurd prediction'
However, Patrick Harvie, Green MSP for Glasgow, described the TIF scheme as a "reckless gamble" with taxpayers cash based on "the absurd prediction of everlasting retail growth".
"It smacks of desperation that the Scottish government and the city council are putting so much faith in this risky scheme at a time when retailers aren't investing and consumers aren't spending," he said.
"There is a serious danger that this scheme falls apart and the council has to bail it out, diverting resources from schools, social work and public transport.
"The real priorities in Glasgow are being put at risk by the lure of the shiny bauble that is high-end shopping."