Transport police warning after railway detonators theft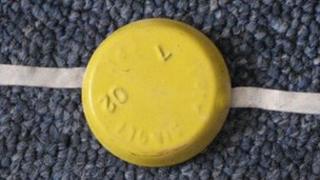 British Transport Police (BTP) have issued a warning to the public after 30 railway detonators were stolen from Holytown station in North Lanarkshire.
The theft occurred between 23:30 on Wednesday and 21:00 on Thursday.
BTP said the devices, which rail staff use as a warning signal, could be "extremely dangerous" in "the wrong hands" - especially on bonfire night.
In August, a 15-year-old boy from Essex lost the sight in his right eye after throwing detonators on to a fire.
Det Sgt Nicola Phillips of BTP said: "In the wrong hands these devices will be extremely dangerous.
"With bonfire night so close I am concerned that someone might put the detonators in a fire, and the consequences of such a stupid action do not bear thinking about."
Anyone with information about the stolen detonators is asked to contact BTP immediately.