Closing speeches in trial of death crash PC David Brown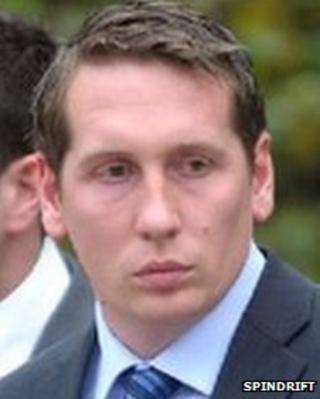 Closing speeches have been heard in the trial of a policeman accused of causing the death of a taxi driver in Glasgow.
PC David Brown admits careless driving over the death of John Lacon, 65, on Great Western Road on 29 April 2011.
The prosecution is seeking a dangerous driving conviction and told jurors that most witnesses did not see PC Brown's van slow before it hit Mr Lacon's taxi.
PC Brown's defence told the High Court in Glasgow that a guilty verdict "would not be just". The trial continues.
The policeman previously told the court that he was at fault over the crash between the police Ford Transit van and Mr Lacon's Fiat Doblo.
The incident happened as PC Brown was answering an emergency "police in danger" call, following trouble at an unofficial Royal Wedding party in Kelvingrove Park, which was attended by thousands of people.
In his closing speech, advocate depute Iain McSporran, prosecuting, told the jury: "The only possible verdict, painful and difficult though it may be, is guilty of causing death by dangerous driving."
'Judge objectively'
Mr McSporran told the jury of 10 women and five men: "He drove at a speed that made it obvious to eyewitnesses that there was going to be a collision unless he slowed down."
The prosecutor said that the police were not above the law and said that PC Brown showed a complete disregard for the safety of other road users.
He added: "David Brown was only driving that way that day on duty as a police officer going to an emergency, but you should judge the driving objectively.
"Was it dangerous for him to drive as he did at that speed through a red light having taken no precautions?"
The court has heard that police on emergency calls are allowed to go through red lights, however, they are taught to treat them as you would a stop or give way sign, and are expected to slow down and check it is safe to proceed.
Mr McSporran added: "The Crown says that there is no other word to describe what happened than dangerous.
"It is not about who you feel the most sorry for. Police officers are the same as the rest of us.
"They are not allowed to put people at risk by the way they drive."
Mr McSporran said that the majority of eyewitnesses said in evidence that they did not see PC Brown's police vehicle slow down as it approached the junction.
He then told the jury: "If you accept the evidence of the majority of the eyewitnesses that the police vehicle did not appear to slow down, that the police van was driven far too fast and driven into the side of the taxi then that would be dangerous driving."
Park emergency
Defence counsel Thomas Ross urged the jury to acquit PC Brown of dangerous driving.
He said: "For eight years he has put his personal safety on the line to protect us all.
"He was responding to an emergency caused by hoodlums at Kelvingrove Park."
The advocate asked the jurors to take on board the words of 18th century writer Alexander Pope that "To err is human, to forgive is divine."
He added: "The Crown says that Mr Brown didn't slow down because no one saw him slow down.
"The advocate depute is urging you to a verdict that defies logic.
"Not one eyewitness claimed he was satisfied beyond doubt in the matter, so how could you be ladies and gentlemen.
"They were all intelligent people. They could have said they were certain, but they didn't."
Mr Ross said that for driving to be dangerous it has to fall far below the level expected of a reasonable, competent driver.
He then went on: "None of us can imagine ourselves on trial for murder or attempted murder, but anyone of us is capable of a momentary error of judgement when driving.
"An error of judgment can have catastrophic consequences for others. Your future, your liberty, your career and your reputation is then on the line.
"It would not be just to convict David Brown of causing death by dangerous driving."
Temporary judge John Beckett QC will send the jury out to consider its verdict later.