David Hobson jailed for life for murdering Gary Logue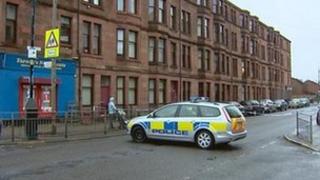 A man has been jailed for life for murdering his uncle and dumping his naked body in a Glasgow street.
David Hobson admitted killing 48-year-old Gary Logue with a single stab wound to the chest in a flat in Elderpark Street, Govan, on 21 February.
The 21-year-old carried out the attack over a belief that his uncle had stolen £400 from a relative.
At the High Court in Glasgow, Hobson was ordered to serve 14-and-a-half years before being eligible for parole.
Jailing him, temporary judge Sean Murphy QC told Hobson: "The victim in this case was not only your uncle but you seem to have got on well generally.
Body in street
"You argued about something and it escalated to the point where you stabbed your uncle once with a knife.
"There is no doubt you may have been subject to an attack on you initially, but there was a point when you took the knife and stabbed him.
"Bizarrely after this you took off his clothes and dragged him into the street in full view of CCTV cameras. You then drew attention to yourself by telling people what you had done."
Mr Logue, from the city's Pollokshields area, was found in Elderpark Street at about 04:10.
He was pronounced dead on arrival at hospital a short time later.
An earlier court hearing was told that there was a "past tension" within the family following the alleged theft of money by Mr Logue from his mother's house while she was in hospital in 2010. Savings of £400 were taken.
Hobson was said to be unhappy about this, although he and his uncle continued to socialise together.
On the night of the murder, the two men had been arguing and Hobson was heard to say: "Did you steal the money out of my gran's purse, just tell me the truth, did you take my gran's money?"
Mr Logue was heard to say: "No son, I never took it."
Blood-covered body
Hobson's girlfriend, 25-year-old Caroline Ellis, was wakened by a shout and went into the living room of the flat.
She found Mr Logue lying naked and covered in blood and Hobson standing over him with a knife in his hand.
The court heard that Hobson told her to hold the door open for him, and he dumped his uncle's body a few yards away.
Ms Ellis then made an anonymous 999 call and police and ambulances attended at the scene.
The next day Hobson told a woman he met in a lift: "I think I murdered my uncle last night."
He added that it was because his uncle had stolen money from his granny.
The court was told that Mr Logue suffered one stab wound through the heart and would have died in minutes.