Garry Kane on trial accused of murdering grandmother Kathleen Milward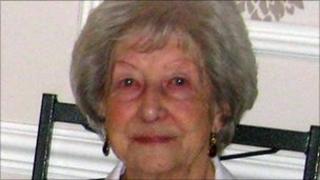 A man has gone on trial accused of murdering his 87-year-old grandmother at her home in South Lanarkshire.
Garry Kane, 40, denies killing Kathleen Milward in Brodie Place, Stonehouse, on 3 January this year.
The trial, before Lord Matthews at the High Court at Dumbarton, is expected to last 10 days.
The jury of eight men and seven woman were told that Mrs Milward died from head and neck injuries and a type of heart disease.
The cause of death was contained within a joint minute of facts which were agreed by the Crown and the defence.
It is alleged that Mr Kane murdered Mrs Milward by hitting her on the head with a blunt implement and applying pressure to her neck.
He is also accused of a number of other charges, including the theft of money from her house, behaving in a threatening and abusive manner towards his grandmother between 24 December 2011 and 3 January this year, and possession of heroin at several locations in Lanarkshire.
Mr Kane denies all the charges against him.