Better off 'more likely to run' in three Glasgow races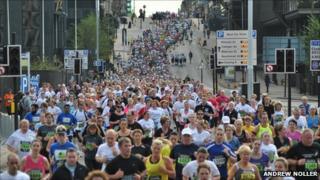 Glasgow's three public running events attract more entrants from the city's affluent areas that its less well off neighbourhoods, a study has found.
Glasgow Centre for Population Health analysed entry data from 2008 to 2011 for the Great Scottish Run, the Junior Great Scottish Run and the Women's 10K.
They also found more boys than teenage girls ran the junior race with older runners less likely in the adult races.
The results will be used to encourage "under-represented groups".
The research found that the three events had "good participation from across Scotland, and high levels of participation from Glaswegians".
Geographic variations
The study, carried out on behalf of sports and arts body, Glasgow Life, found "wide socioeconomic and neighbourhood disparities within this".
People living in the least deprived areas of Glasgow were found to be "four to six times more likely to enter than people from the most deprived areas".
Bruce Whyte, from Glasgow Centre for Population Health, said: "Within Glasgow there are far more entrants from the least deprived communities and there are large variations in participation geographically across the city.
"In addition, adult entry levels drop rapidly among older age groups and, among children, boys are much more likely to take part than girls in the junior run across all age groups, but particularly in the teenage years."
Mr Whyte said further research was planned as it was "important to understand better what motivates people to enter and the potential physical and mental health benefits of participating".
Dr Mark O'Neill, director of policy and research at Glasgow Life, said: 'These findings are important given the potential individual and population health benefits that wider participation in these running events could bring.
"Glasgow Life is committed to making these already successful events, attractive to a wider population and, specifically, to increase participation within currently under-represented groups.
"We commissioned this report so that we could learn where we need to work harder to get even more people engaged in physical activity across the city."
Glasgow Centre for Population Health is a partnership between NHS Greater Glasgow and Clyde, Glasgow City Council and Glasgow University.