Mum says Garry Kane 'would not kill' Kathleen Milward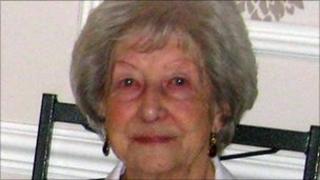 The mother of a man who is accused of killing his grandmother at her South Lanarkshire home has told a court he would never have murdered her.
Kathleen Kane, 64, said her son Garry Kane had immense love and respect for her mother, Kathleen Milward, and she would never cover up for him.
Mr Kane, 41, denies murdering his 87-year-old grandmother at her home in Stonehouse on 3 January this year.
The trial, before Lord Matthews at the High Court at Dumbarton, continues.
During questioning from defence QC Gordon Jackson, Ms Kane sobbed as she said: "I wouldn't lie for him or cover up for him because he's my son.
'Not perfect'
"He wouldn't touch my mother, he adored her.
"Apart from myself he was the only affection she got. He's always been there for her. I'm not saying he's perfect he has his problems."
She was asked by Mr Jackson: "You can't think of any reason why he would have done anything remotely like he's been accused?"
She replied: "No, if I thought he had done that I would not cover up for him. I believe him, my heart tells me he didn't do this."
She said that the "modus operandi" was all wrong because the person who assaulted her mother and walked out left her to die and she added: "He did not do that."
The court has already heard that Mrs Milward's body was found in the kitchen of her home.
Ms Kane said that she got a phone call from her sister telling her that their mother was dead and she got in her car and drove over to her mother's house.
She said her sister and brother-in-law were standing outside the house and Garry was sitting on a chair in the bedroom.
'Really shaken'
She added: "He was really shaken and I knew right away he was in shock.
"He was very, very upset. He just kept saying 'my gran, my gran'."
Earlier the court heard that Ms Kane told police she had warned her mother to keep her bedroom door locked while Mr Kane was in the house.
Ms Kane said, however, that she was deeply upset at the time because her mother had died. She described one police interview as "six hours of pure hell".
The court was also told that Mr Kane, who was addicted to heroin, had left home at 18 or 19 and had served in the army and lived in England before coming home to Scotland in 2007.
At first he lived with his mother but the court heard that she threw him out after he stole a blu-ray recorder, a camcorder and a ring from her home.
Advocate Depute Jennifer Bain, prosecuting, asked Ms Kane if she had any worries about Mr Kane stealing from his grandmother whilst living there.
'Immense respect'
She replied: "He definitely wouldn't. He had immense respect and love for my mother. He would never have stolen from her."
Ms Kane said that the last time she spoke to her mother - who was frail and suffering from an increased heart rate - was on the phone on the afternoon of the day she died.
The witness told the court that about 19:00 she tried to phone her mother again and got no answer and called Mr Kane on his mobile.
Ms Kane said: "I asked him if he could go and check she was alright. There was no problem he said 'sure'."
She said that he eventually phoned her from her mother's house and added: "He was extremely upset. I could hardly make out what he was saying. He said there was something wrong with my mum.
"I said 'Garry phone 999 and I'll phone Maureen' and that's what I did."
The murder charge against Mr Kane includes claims that he struck his grandmother on the head with a blunt implement and applied pressure to her neck.
He is also alleged to have stolen a sum of money from her home.
Mr Kane faces a separate allegation that he behaved in a threatening and abusive manner towards his grandmother between 24 December 2011 and 3 January this year.
He is further accused of possessing heroin at several locations in Lanarkshire and three theft charges. Mr Kane denies all the charges.