Garry Kane sobs as 999 call on Kathleen Milward's death is played in court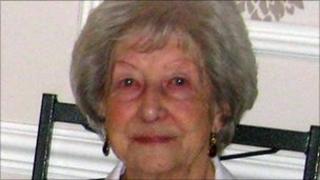 A man accused of murdering his grandmother at her South Lanarkshire home has broken down in court as his 999 call was played for the jury.
Garry Kane, 41, was heard saying in the call: "I just came in, my gran's lying in a pool of blood." He is also heard saying: "Oh God, God, oh God."
He denies murdering 87-year-old Kathleen Milward at her home in Stonehouse on 3 January this year.
The trial, before Lord Matthews at the High Court at Dumbarton, continues.
During the emergency call, Mr Kane is heard saying: "I just came in, my gran's lying in a pool of blood."
Sobbing uncontrollably
He is then asked by the 999 operator: "What's happened to her?" and replies "I don't know."
He is then asked if she is awake and says: "No, I don't think so, she's lying on her back."
Mr Kane is then talked through resuscitation and is heard sobbing uncontrollably.
At one point the operator says: "Try to keep calm" and Kane replies: "Where's the ambulance, she's got a big gash on her arm. How long are they going to be? Oh God, God, oh God."
He is then asked to hold his 87-year-old gran's head back and said: "I don't want to touch her."
Earlier, the court heard from Mr Kane's aunt, Maureen Kennedy, 58, from Stonehouse.
She told of how she got a phone call from her sister and Mr Kane's mother, Kathleen Kane, saying she was worried because she had not been able to get hold of their mother.
Mrs Kennedy told the jury that she went round to her mother's house and knocked the door and initially got no answer but then Kane came to the door holding a phone.
She said she said to him: "Where's mum?" and he walked backwards into the living room.
Mrs Kennedy said she looked into her mother's bedroom to see if she was there but she was not and the bed was made.
'Very distressed'
She added: "I assumed she must be sitting in her chair in the living room, ill."
She was asked by Advocate depute Jennifer Bain, prosecuting: "Was your mother in her chair?"
Mrs Kennedy replied: "No, the door to the kitchen was ajar there was a beam of light coming from the kitchen."
The court heard that Mr Kane walked backwards "shaking and very stressed".
She said: "I said 'what's happened where's gran?' and he just said 'it's terrible, it's terrible, don't go in there'.
"I said 'I have to go in' and I went in and saw my mum lying on the floor."
At this point Mrs Kennedy broke down in tears.
She was then asked if she had seen her mother lying on the floor and replied: "Yes I did, my mum was lying on her back with her hands out and her palms facing up. Her legs were straight in front slightly parted. Her eyes were very slightly open.
"There was a pool of blood to her left hand side beside her wedding ring."
Mrs Kennedy was asked if there was any sign of life from her mother and said no.
'Cold as marble'
She added that when she knelt down to touch her mother's neck, to see if there was a pulse, she got a shock because she was "as cold as marble".
Mrs Kennedy told the court she was surprised by this because the house was very hot.
The mother-of-two added that she looked up to her husband Ian, who was there with her and said: "My mum's been dead for a while."
She said she then spoke to Mr Kane who said he had been out between 17:00 and 17:30 to go and see a friend.
Mrs Kennedy said she asked him how his gran was before he left and he said she was fine she was just complaining about her sore back as usual.
Earlier Mrs Kennedy told of her last phone call with her mother at approximately 10:30 on the day Mrs Milward died.
She claimed her mother told her that Garry had been shouting at her and using the 'f' word.
Mrs Kennedy said that her mother said: "I don't use that word and it upset me very much."
She added: "I said 'mum at your age and with your health you don't need this you should ask Garry to leave'.
Mrs Kennedy said her mother replied that she could not do that as Mr Kane had "no where else to go".
'Another son'
She said her mother said: "I can't put him out on the street".
The jury heard that Mrs Kennedy offered to go down with her husband and ask Mr Kane to leave but her mother refused to do this.
Under cross examination by defence QC Gordon Jackson, Mrs Kennedy, who gave evidence from behind screens, was asked: "You told us something of the relationship of your nephew and your mother, was he her favourite?"
She replied: "Yes, he was like another son to her."
She added that Mrs Milward regularly gave Kane money.
Mr Jackson asked Mrs Kennedy how often she saw her mother and she replied one to two times a week and said she also phoned her.
She was asked how far away from her mother she lived and said about five minutes walk away.
The QC then asked: "How long before January 3 had you seen your mother?"
Mrs Kennedy replied: "Christmas day."
Mr Jackson went on: "You didn't know much about day to day dealings with her and her grandson Garry" and she replied: "Only what she told me."