Scots pilot Tom Grieve killed in Thailand microlight crash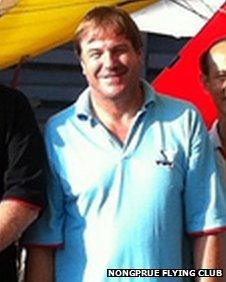 One Briton has died and another has been injured after their microlight crashed off the Thai coast during a flight to scatter a friend's ashes.
Tom Grieve, 57, who was based in Pattaya, but was originally from Lanarkshire, died from chest injuries following the crash in Pattaya Bay.
Patrick Esser, 31, of Lyme Regis, Dorset, suffered a broken arm in the incident on Saturday afternoon.
Their craft is believed to have clipped an object during an emergency landing.
Both men are believed to have taken the microlight out above the Bay of Thailand to scatter the ashes of close friend Stuart Long who died of throat cancer aged 41.
Mr Grieve was said to be at the controls when the engine cut out at about 2,000ft.
It is thought he was aiming to land the craft on a large piece of concrete when it clipped something on the way down, crashing into the water upside down.
Mr Grieve, a well-known former member of Connel Flying Club in Oban, and a current member of Nongprue Flying Club in Thailand, died in hospital from apparent chest injuries shortly after being rescued from the sea.
Mr Esser reportedly suffered a broken arm and was treated at Pattaya Memorial Hospital, east of Bangkok.
A spokeswoman for the Foreign and Commonwealth Office said: "We can confirm the death of a British national, Thomas Grieve, and the hospitalisation of a British national following a microlight aircraft accident in Pattaya, Thailand.
"We are providing consular assistance to Mr Grieve's family at this difficult time."
Mr Grieve is thought to have decades of experience flying microlight crafts and is said to have received awards for his airmanship.
Related Internet Links
The BBC is not responsible for the content of external sites.