Satellite aerobrake could help reduce space junk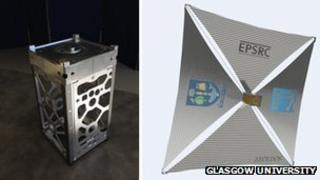 Scientists in Scotland have developed a braking system for satellites that hastens orbit decay and helps reduce the amount of space junk.
The foldable "aerobrake" can be added to small satellites, known as CubeSats, before they go into low-Earth orbit.
When the CubeSat reaches the end of its operational life, the aerobrake springs open to generate aerodynamic drag against the thin upper atmosphere.
This hastens its descent, during which the satellite burns up on re-entry.
The Aerodynamic End Of Life Deorbit System was developed by a team from Glasgow University in partnership with CubeSat and nanosatellites manufacturer Clyde Space.
Space 'mess'
The foldable lightweight aerobrake is made from a thin membrane, supported by tape measure-like struts.
Dr Patrick Harkness, from Glasgow University's school of engineering, is working with Clyde Space to apply the technology to the CubeSats it provides to customers.
He said: "It's only been 55 years since Sputnik, the first man-made satellite, was sent into orbit, but since then we've managed to make made quite a mess of the space around our planet.
"The rate at which we're putting objects into orbit is accelerating each year, which is why it's vital for us to take more control over how they can be removed from orbit once they have served their purpose."
Dr Harkness said CubeSats were currently aimed at lower orbits than desired.
He said this was necessary to guarantee they would re-enter the Earth's atmosphere within 25 years as recommended by the United Nations.
Dr Harkness added: "This can curtail the full scientific potential of CubeSats, but Aerodynamic End Of Life Deorbit System gives users much more control over the end of their project's life.
"It could enable missions to take place at much higher altitudes because they know we can always produce the drag they will need to dispose of the spacecraft in time."