John Finnegan murder accused Francis Coates 'shocked' at death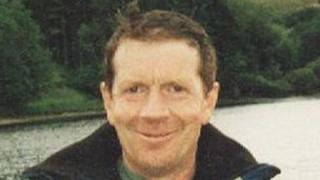 The trial of two men accused of a fatal shooting in East Renfrewshire has been told one of them appeared "nervous and shocked" on learning of the incident.
The evidence was heard at the High Court in Glasgow, where Francis Coates, 36, and James McCarron, 33, deny murdering John Finnegan.
The 48-year-old died in hospital after being shot in the face in Bank Street, Neilston, on 27 October 2011.
Mr Coates and Mr McCarron have each lodged a special defence of alibi.
Mr Coates' legal team has also lodged a special defence of incrimination, naming others as responsible for the shooting.
Family link
The trial heard from witness Grace Finnegan, who recalled being out in Neilston on the night of the shooting and meeting Mr Finnegan.
The 55-year-old later heard ambulance sirens and went to see what was going on.
She later discovered that Mr Finnegan - whose cousin she is married to - had been shot.
While she was standing in the street, Mrs Finnegan said she heard Mr Coates.
The witness told the jury: "He shouted: 'Grace, what has happened?' I don't know what way he came.
"He walked around to beside me and I told him that John had been shot."
Prosecutor Jonathan Brodie QC asked: "When you said 'John had been shot' was it obvious what John?"
Mrs Finnegan replied: "No, I had to give an explanation."
Mr Brodie also asked: "In the way he behaved, how did he appear to you?" The witness replied: "Nervous, shocked - his eyes were quite big."
She added: "He just seemed to me to be shocked and agitated at what had happened."
'Shocking and startling'
Mr Coates's QC Gary Allan later said the "whole event" would have been "shocking and startling".
Mr Allan added: "So, being like that is entirely reasonable. Anyone would be like that?" Mrs Finnegan replied: "Yes."
The witness earlier told how she had been chatting to Mr Finnegan on the night in question and he appeared to be "his usual cheery self".
She had seen him heading to a local school to drop off his young step-daughter at a Halloween party.
The court also heard from a paramedic who attended to Mr Finnegan after he had been shot in the face.
Anthony Connelly told the jury: "I approached the patient and he was lying on his back.
"There were ladies present on either side - I believed one was his wife - comforting him.
"There was a towel (being used) to try and stem the blood from Mr Finnegan's face.
"There was blood on the pavement and there was a wound on his left cheek - blood was oozing from there."
Mr Finnegan, also of Neilston, was rushed to hospital, but later died.
Mr Coates has lodged a special defence of incrimination, claiming the shooting was on the orders of Stewart Gillespie, who has since died.
Both have each also lodged a special defence of alibi. The trial, before temporary judge Michael O'Grady QC, continues.