Police issue fans advice over Celtic v Spartak game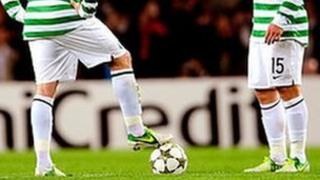 Police have appealed to fans attending Celtic's Champion's League game with Spartak Moscow to get to the stadium as early as possible.
Strathclyde Police said it expected "considerable congestion around Celtic Park as a result of ongoing road repairs to London Road".
Access to the stadium via London Road is limited and there are a some restrictions to pedestrian access.
A 60,000 crown is expected at the game, which kicks off on Wednesday at 19:45.
Match commander Ch Insp Pat O'Callaghan said: "Fans, especially those coming to Glasgow for the first time, should be aware that drinking alcohol in public places is not permitted and that both alcohol and other containers holding liquid of any kind are not allowed in the stadium.
Alcohol warning
"In addition, drinking or carrying alcohol on buses to and from the game is against the law. It is not only the person found in possession of alcohol that runs the risk of being charged - but the hirer of the bus, the driver and the company could also all be liable.
"Nine hundred tickets have been allocated to Spartak Moscow fans, with most already sold. I would encourage both sets of fans to get to the stadium as early as they can to avoid any delay at the turnstiles and to ensure that they are in the ground on time to enjoy what should be a great night of football."
Police said supporters' buses which normally use the lower coach park at the Davaar Street entrance could still do so but should enter via the Clyde Gateway/London Road junction.
Access to vehicles that use the car parks off Kerrydale Street and Kinloch Street will be via London Road at Springfield Rd. Only pass holders will be permitted access.