Men jailed over £600K amphetamine haul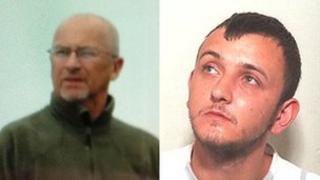 Two men have been jailed after being caught with amphetamine with a street value of more than £600,000.
Richard McCready, 28, and 62-year-old Marshall MacKenzie were arrested during separate raids which targeted an organised crime gang.
They both admitted being involved in the supply of the drug between November 2011 and February this year.
At the High Court in Glasgow, McCready was jailed for 40 months and MacKenzie for 32 months.
Jailing them, judge Lord Bracadale told the pair: "You have both pleaded guilty to being concerned in the supplying of drugs.
"This court has repeatedly made it clear that those involved in the storing and transport form an essential link in the chain of supply. The amount involved here is very substantial."
'Ongoing surveillance'
During an earlier hearing, advocate depute Murdo McTaggart, prosecuting, told the court: "The involvement of the accused in the supplying of amphetamine was discovered as a result of ongoing surveillance by the Scottish Crime and Drug Enforcement Agency (SCDEA) engaged on a wider operation targeted at an organised crime group."
During the course of the investigation, MacKenzie was followed from his then-home in Balloch to Motherwell.
He was observed making a phone call and minutes later McCready drove to collect MacKenzie and took him to Netherwood Tower, Motherwell.
McCready was seen entering the block of flats and minutes later returned with a black rucksack.
MacKenzie took the bag and drove off in his own car. He was later stopped by police on the M74 motorway.
The bag was searched and found to contain 1.8 kilos of amphetamine in paste form.
Police then searched MacKenzie's family home in Balloch and found a rucksack on top of a wardrobe in his bedroom which contained £4,900.
Amphetamine paste
MacKenzie's Volkswagen camper van, which was parked in the driveway, was also searched and a carrier bag containing amphetamine paste and a set of scales was discovered.
He told police he had collected amphetamine and had been given instructions on how to mix the drugs.
MacKenzie said he was given £200 for collecting the drugs and would have received a further £200 for mixing the amphetamine.
Mr McTaggart said: "Mr MacKenzie was fully co-operative, save when he declined to name the two men at the top of the operation.
"It is accepted, based on intelligence gathered during the wider SCDEA operation, that these are men he was entitled to fear."
McCready was detained in Brandon Street, Motherwell. Police searched a flat at Netherwood Tower in the town, where they believed he lived, and found five heat-sealed packages.
They also found a food mixer, a mixing bowl and a vacuum bag sealer system.
Mr McTaggart said: "The drugs Richard McCready had in his possession were of a quality which would be passed on to another member of the operation to carry out the cutting process."
The court also heard that McCready had been jailed for 18 months in France in 2009 on a drugs charge.