New £3m Mull pier at Fishnish to boost timber market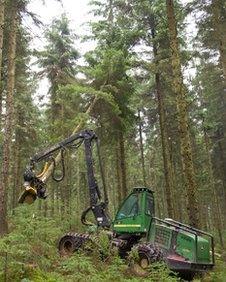 Work is set to get under way before Christmas on a new pier on the Isle of Mull which is aimed at boosting the island's timber business.
Forestry Commission Scotland is paying for the £3m facility, which is being built at Fishnish.
Mull-based firm TSL Contractors will carry out most of the work. The pier should be operational by summer 2013.
It is believed the pier will cut timber transportation costs, and help open new markets to suppliers on the island.
Forestry Commission Scotland said the pier would save on at least 800,000 lorry miles each year, as more timber was moved onto boats, and relieve traffic on fragile mainland roads.
Announcing the £3m investment, Environment Minister Paul Wheelhouse said: "Mull has a tremendous timber resource to tap into but transport costs off the island are high and therefore a constraint to marketing the timber off the island.
"With a reduction of haulage costs and more sites being opened up for harvesting, we should see an increase in Mull's timber value and a reduction of pressure on rural roads.
"The opening up of new markets and an increase in potential timber customers all positive outcomes that the new pier will deliver for Mull."
Once built, the pier will be made available to private and public timber suppliers and will be able to transport bulk goods.
Forestry Commission Scotland said that an increasing supply of timber would become available on Mull as the forest matures.
Initially, it is expected that about 50,000 tonnes of timber will be transported from the pier each year.
Related Internet Links
The BBC is not responsible for the content of external sites.