Glasgow Uni honours Olympic winner Katherine Grainger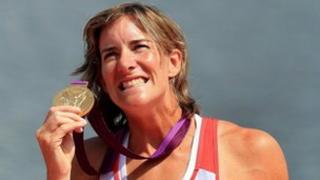 Scottish Olympic gold medal rower Katherine Grainger has been honoured by her former university.
The 37-year-old was awarded Glasgow University's Young Alumnus of the Year during the alumni Christmas Diner in Bute Hall on Saturday.
Ms Grainger and Anna Watkins triumphed in the women's double sculls at the London Olympics in August.
The university award was in recognition of her achievements as Britain's most successful female rower.
'Special' award
Ms Grainger said: "It's incredible. I felt the big focus for me this year would be the Olympics, and winning it was everything I wanted it to be.
"I kind of thought I'd won everything I could win, so to be awarded this on top makes the year even more special."
Ms Grainger was born in Glasgow in 1975.
She completed a law degree in Edinburgh before receiving a Masters in Medical Law and Medical Ethics from Glasgow University in 2001.
She is currently close to completing a PhD at King's College London.