Glasgow University increases places for poorer students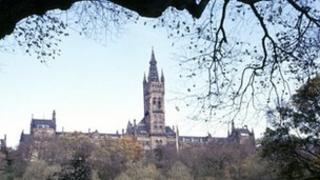 Glasgow University is to create up to 800 places over the next four years for students from low-income backgrounds.
It has received cash from the Scottish Funding Council to create 200 extra places each year between 2013 and 2016.
These will be open to students from Scotland's 40% most deprived areas.
Earlier this year, a National Union of Students (NUS) report found Scotland's four ancient universities - including Glasgow - were lagging behind in recruiting from deprived areas.
Glasgow University said that 24.1% of its undergraduate students from Scotland came from come the country's 40% most deprived areas.
Target neighbourhoods
It said this was the highest rate of recruitment among the four ancient universities, which include Aberdeen, Edinburgh and St Andrews.
Glasgow Principal Anton Muscatelli said the university had a "long-standing commitment" to widening access and the Scottish Funding Council cash would help make further improvements.
"The additional funding will allow us to expand the number and spread of neighbourhoods we target in order to reach more pupils and, more importantly, start to engage with them from an earlier age," he said.
"We'll also be able to support more adults returning to higher education.
"We believe that universities have a responsibility to make higher education accessible to people from the widest possible socioeconomic spectrum."
The university has received £1.26m for the wider access programme for the next academic year.
Amounts for the following three years will be negotiated with the funding council.