Derek Clark jailed for attempting to murder Mary Coulter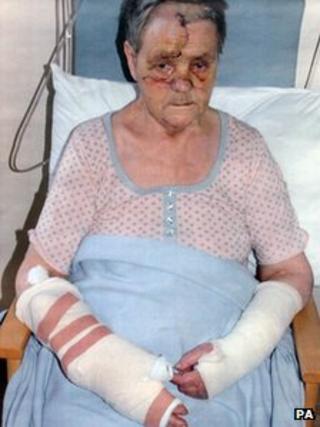 A man who savagely beat a grandmother in her North Lanarkshire home has been jailed for a total of 15 years.
Derek Clark, 32, admitted attempting to murder Mary Coulter at her home in Overtown, near Wishaw, on 22 March.
The 76-year-old suffered two broken arms, a fractured skull, and deep slash wounds after three men entered her house looking for her son, Ronnie.
Clark was jailed for 10 years for the attack, and a further five years for another assault on the same day.
Co-accused Richard Parvin, 29, was jailed for a total of 10 years after he admitted conspiracy to assault Ronnie Coulter and conspiracy to assault another man, Grant Murdoch.
Darryl Finnie, 27, who also admitted conspiring to assault Mr Coulter, was jailed for four years.
Clark had also admitted a separate charge of assaulting Mr Murdoch.
His five-year jail term for that offence will run consecutively with his 10-year term for the attempted murder of Mrs Coulter.
The High Court in Glasgow heard that Clark wanted revenge on Ronnie Coulter amid claims that he had terrorised his family.
He was high on cocaine when he left his home in Ashgill, South Lanarkshire, before the attack in the early hours of 22 March this year.
The court was told Clark was armed with a large knife when he, Parvin and Finnie banged on Mrs Coulter's door.
The OAP left her bed and went downstairs, where she saw the trio looking into her house.
Mrs Coulter pleaded that she was "just an old woman on her own", but the men, who wore balaclavas, burst in.
The trio then went through the rooms looking for Ronnie Coulter. The pensioner was then subjected to a brutal assault.
Prosecutor Alex Prentice QC told the court: "Clark, without provocation, hit her on the right side of her face, just below the eyes.
"She immediately felt the impact, put her hands to her face and felt wet blood."
Clark and his accomplices left the OAP for dead but Mrs Coulter managed to call for help.
Neighbour Ruth Hamilton found the pensioner in her hallway, with her nose appearing to be hanging from her face.
Reconstructive surgery
She required an emergency blood transfusion and reconstructive surgery.
The pensioner was so traumatised by the attack that she gave up her home to move in with her daughter.
The court was told the trio were eventually caught after Finnie's girlfriend was questioned about what she knew about another assault.
She told police she had been in Clark's house after Mrs Coulter was attacked and described how he had spoken about Mrs Coulter having "been done".
The trio were detained in June. Finnie was allowed to talk to his mother at the police station, and cried as he told her: "As soon as I seen the old woman I ran out and then I heard her screaming. I can still hear her screaming now."
Photographs of Mrs Coulter's injuries were shown to judge Lord Stewart, who said: "These photos should come with a health warning."
The court heard that Clark carried out the attack on Mr Murdoch hours after his savage assault on Mrs Coulter.
Mr Murdoch was tortured on 22 March and dumped in woods amid claims that he owed Clark money.
The court heard he was taken to a secluded area near to Mauldslie Bridge in Rosebank, South Lanarkshire, and attacked with a machete, leaving multiple wounds to his head, face, arms and legs.
'Appalling injuries'
Speaking after the trio were sentenced, Det Supt Clark Cuzen said: "These men subjected 76 year-old Mary Coulter to a brutal and sustained attack within her own home which left her with appalling injuries.
"The sentences today in no way take away the horror of that attack but I hope that the fact that these three men are being sent to prison will offer Mrs Coulter and her family some consolation.
"This attack had a huge impact on all their lives and today's sentencing will perhaps help them put this terrible experience behind them and help them move on."
Ronnie Coulter and Mrs Coulter's grandson, Andrew, were among three men who were cleared of killing Asian waiter Surjit Singh Chokar in 1998.