Academic and writer Archie E Roy dies aged 88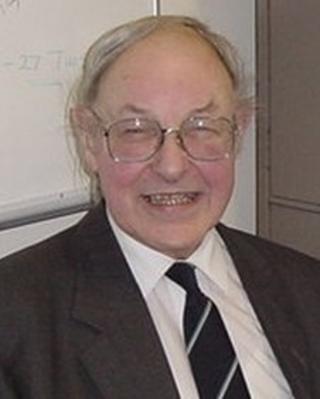 The renowned Scottish academic and writer Archibald Edminston Roy has died in Glasgow aged 88.
Known as Archie E Roy, he was Professor Emeritus of Astronomy at Glasgow University and a Fellow of the Royal Society of Edinburgh.
During a lengthy career, he published 20 books - six of them novels. He also had an asteroid named after him and conducted research into the paranormal.
Professor Roy died of pneumonia on Thursday afternoon.
He is survived by his wife Frances and three sons David, Archie and Ian.
'Glasgow's ghostbuster'
Professor Roy was a regular contributor to BBC Scotland television and radio programmes on areas as diverse as astronomy and the paranormal.
His son David said this was a source of amusement to the family.
"We used to find it funny as a family that he was sometimes referred to as Glasgow's ghostbuster," he said.
"But he was equally as proud of both his achievements within academia and astronomy as well as his innovative work looking for scientific evidence of the paranormal."
David Roy said his father was "fascinated by life in general".
"I remember as a small child him talking about the greatest area of discovery was still the human brain," he said.
"I think he was just fascinated by knowledge and by extending knowledge and hopefully education, which ultimately, I think, was his real passion."
Mr Roy said his father started out as a physics teacher at Shawlands Academy in Glasgow, before completing a doctorate in the 1950s, which opened the doorway to his lengthy career as an academic and professor.
He added: "When he was asked by someone what he did, he would refer to himself as 'just a teacher'.
"That's what he was most proud off, the way that he could hopefully help people to discover new knowledge and new things about themselves."
Distinguished career
Professor Roy was educated at Glasgow's Hillhead High School and later studied at Glasgow University, where he went on to teach.
During his long and distinguished career, he conducted research in areas such as astrodynamics, celestial mechanics, archaeoastronomy and neural networks.
Professor Martin Hendry, head of Physics and Astronomy at Glasgow University, paid tribute to his former colleague.
"Archie Roy was a tremendous academic who inspired not only generations of students, including myself, but also the general public through his books and media work," he said.
"He will be much missed by friends and former colleagues at the University of Glasgow and our thoughts are with his family at this difficult time."
Professor Roy was a Fellow of the Royal Astronomical Society and the British Interplanetary Society.
Memorial medal
The academic was also a Founding President of The Scottish Society for Psychical Research and a member and past president of the London-based Society for Psychical Research.
He was awarded the latter's Myers Memorial Medal in 2004 for outstanding contributions to psychical research.
The inner main-belt asteroid 5806 Archieroy was named after Professor Roy shortly after its discovery in 1986.
He was also elected a member of the European Academy of Arts, Sciences and the Humanities.
Other positions included Patron of the Churches Fellowship (Scotland) for Psychical and Spiritual Studies and a member of the Scientific and Medical Network.