Emaciated dog found on Ayr Beach is 'cruelty case'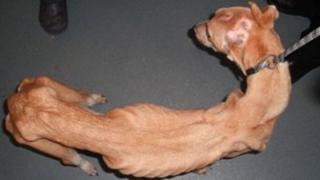 An animal welfare charity is treating the case of a severely emaciated dog that was found on Ayr Beach at the weekend as suspected cruelty.
The Scottish SPCA said the tan female lurcher, which is about 18 months old, was found on Sunday.
Staff are now caring for her and are hopeful that the dog, which they have named Honey, will fully recover.
The charity has appealed for anyone with information about the animal's owner to get in touch.
Inspector Kerry Kirkpatrick said: "Honey is severely underweight and every bone is clearly visible to see and touch.
"She has now been put on a weight-gain diet and we're hopeful she will make a full recovery.
"A dog doesn't become this underweight overnight and we are therefore treating this as a case of suspected cruelty."