Review after reindeer visit to Yorkhill Sick Children's Hospital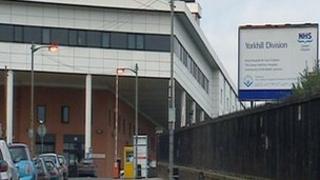 A review has been carried out after a reindeer was taken round some wards at Glasgow's Sick Children's Hospital.
The tame fawn, which had been checked by a vet, was outside the hospital before Christmas for a charity event.
But a member of staff decided to take the animal inside to allow more young patients to see and pet it.
NHS Greater Glasgow and Clyde said the incident was "well intentioned" but happened without the permission or knowledge of managers or senior staff.
Michelle Petersen's daughter was in the hospital at the time.
'Well controlled'
She told the BBC: "My daughter is two and a half and has had two bone marrow transplants, she is immunosuppressed so she couldn't touch the reindeer herself but she could still look at it.
"It was magical for her. She's missed out on so much being in hospital, especially over Christmas.
"It was walked up the middle of the ward so parents had a choice. It was very well controlled.
She added: "These kids have spent so much time in isolation.
"My daughter wanted to see Santa but couldn't because of the risk of infection so this was great for her and great for the other kids."
Internal review
Yorkhill Children's Foundation, which organised the event said in a statement the event "was planned for only the grounds of Yorkhill Hospital and surrounding streets as part of its Christmas Appeal activities".
It added: "However, an NHS staff member decided to take the fawn on an unscheduled visit round some of the wards in the hospital so children could see the baby reindeer. This was not part of our event."
The health board said it had conducted an internal review into the incident.
In a statement, it added: "At no time did the fawn urinate on a child and appropriate infection control procedures were taken with those children who petted the animal.
"The reindeer fawn did not go into any isolation cubicles or have contact with any patient in isolation."