Tramway in Glasgow to host 2015 Turner Prize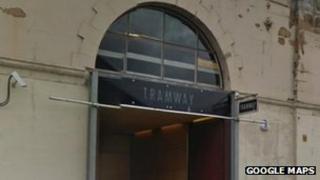 The Tramway in Glasgow has been selected to host the 2015 Turner Prize.
The annual award is made to a British artist under 50 who is judged to have produced an outstanding exhibition or other presentation of their work.
Winners of the prize, which is presented outside London in alternate years, receive a cheque for £25,000.
Glasgow will be the first city in Scotland to host the prize. The bid partnership involved Creative Scotland, Event Scotland and the city council.
The three other venues - Nottingham Contemporary, New Art Gallery in Walsall and Whitworth Art Gallery in Manchester - had been shortlisted with the Tramway to host the event.
'Centre of excellence'
Tate director Nicholas Serota, said each venue had "put forward compelling cases for hosting the Turner Prize in 2015".
Confirming that Tramway in Glasgow's south side would host the event in December 2015, he said: "Over the last 20 years, Glasgow and Scotland has gained national and international recognition as a centre of excellence in, and for, the visual arts.
"For many years artists who are from Scotland or who have trained at the Glasgow School of Art - one of the world's leading art schools - have been nominated for, or won, the award.'
Glasgow's successful bid was welcomed by city council leader Gordon Matheson.
"Glasgow is Scotland's cultural powerhouse and we are delighted that our work with partners at Creative Scotland and Event Scotland has won us the right to host the UK's most prestigious arts prize in 2015," he said.
"Tramway has been described as an industrial cathedral that connects art with humanity and has a thriving global reputation as a producer and promoter of the most innovative work by Scottish and international artists.
"In bringing the Turner Prize to Tramway and Glasgow, we will build on that growing reputation,"