Former Big Brother star Jason Cowan cleared of sex attack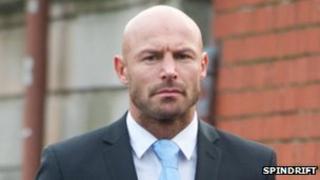 Former Big Brother runner-up Jason Cowan has been cleared of sexually assaulting a woman in Argyll.
Mr Cowan, from Glasgow, was charged with attacking the 36-year-old mother as she slept in his chalet at the Drimsynie Estate on 11 December 2011.
The 39-year-old former body-builder was cleared following a three-day trial at the High Court in Glasgow.
Following the verdict, Mr Cowan said: "I am glad it is over and that I can now get back on with my life."
"I am very happy with the verdict - the truth always comes out. It has been a long year, so now we can get back on track."
Away day
The alleged attack was said to have occurred at the Drimsynie Estate in Lochgoilhead.
The woman was there after her employer laid on a Christmas away day.
Mr Cowan was invited as he was employed as a personal trainer for the firm.
The woman - who admitted she was drunk that night - claimed she was attacked after she fell asleep in Mr Cowan's lodge.
He had allowed her in after she could not get into her own chalet.
She claimed she was in a single bed fully clothed and awoke to find a nude Cowan on top of her.
Describing the alleged incident, the woman told jurors: "He was leaning over me - I was screaming at him to get off. I just know that I was trying to get up, but could not.
"I was just screaming and he had a really nasty face."
She said she kicked out at Mr Cowan and yelled at him to get off her before being forced outside.
The woman claimed the incident had "ruined her life" and that her children had asked if she had cancer due to how affected she had apparently been.
'Bit frisky'
Mr Cowan told police that things had got "a wee bit frisky" with the woman, but insisted he would never "force" himself on anyone.
He said the woman had got into his bed - which she denied - and he went on top of her before "something must have registered with her".
Mr Cowan told police: "She said get off me - that was my call sign and I was off her. I would not force myself on anybody. I was off her instantly."
Mr Cowan said anything that had occurred prior to that was consensual.