Brian Cox plays 'Del Boy's Scottish cousin' - Bob Servant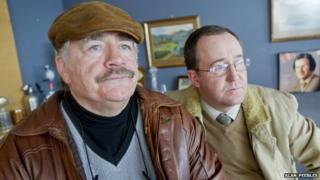 Veteran Hollywood actor Brian Cox has returned to work in his native Dundee for the first time in 50 years. He is playing the lead role in new BBC Four comedy Bob Servant Independent.
Brian Cox admits most people would not see him as a comic actor but says that is how he views himself.
His film pedigree is extensive, including Rob Roy, the Bourne trilogy, X-Men 2 and Troy, but he rarely plays characters who are very likeable.
Cox was famously Hannibal Lecktor (in Michael Mann's Manhunter) before Anthony Hopkins took on the role, with a different spelling, in Silence of the Lambs.
The 66-year-old Scottish actor has also played many of the great dramatic classical stage roles but insists he has acted them with a "ludicrous comic bent".
"In King Lear, I came whirling on in a wheelchair," he says. "Titus Andronicus, I played very eccentrically."
Although many of his roles, such as the Shakespearean ones, have been very "English", Cox says he has always "looked at life from the Dundee perspective".
And, for the first time in half a century, he has returned to the east coast of Scotland to act in his home city.
His latest creation is Bob Servant - a man of the people who does not really like people.
Servant is a former burger van king who sees himself as Broughty Ferry's answer to Nelson Mandela.
Cox says: "He is sort of the Scottish cousin of Del Boy.
"Bob's unique, but it's got that type of element, of the guy who's trying to put one over, who's trying to do the nefarious deal.
"Except Bob does not see any of it as nefarious, whereas Del Boy realised he was actually doing something wrong."
Servant is a "self-made man" and an "entrepreneur", but Cox says Bob is "more tangential" than John Sullivan's Del Boy and more of a "fantasist". He also has the puffed up "self-regard" of Arthur Lowe's Captain Mainwaring, says Cox.
One character he is not like is Rab C Nesbitt, who Cox describes as "one of the great comic creations".
The actor draws a distinction between the east of Scotland attitude to life and Glaswegian humour, which has frequently been thought by outsiders to represent the whole country.
He says: "In the west of Scotland, it is more about oppression, much more about adversity. Rab C is up against it all the time.
"It is not like that in the east coast. It is much more existential and much more fantasy world and much more childlike.
"Bob and Frank, his campaign manager, are really little boys.
"Bob's about eight and Frank is about six. They are these two boys who are wandering the beaches of Broughty Ferry and thinking how they can spend their day."
The new comedy is written by Neil Forsyth, who is himself from Broughty Ferry, a real-life suburb on the eastern side of Dundee.
The character first appeared almost six years ago in a book called Delete This at Your Peril, which is a series of email exchanges between Servant and internet spammers.
Cox played the part on radio and that led to the TV programme in which Bob stands for parliament in a by-election.
The story of how an unknown comedy writer from a suburb of Dundee managed to get an internationally-respected actor to star in his sitcom is one worthy of Bob Servant himself, says Cox.
Forsyth was in a sports bar in downtown Manhattan watching a Scottish football match and he got into conversation with the only other Dundee United fan in a pub full of Rangers supporters.
Talk turned to his writing and he mentioned that Brian Cox would be his ideal to play the part of Bob Servant.
It turned out that his football friend was a friend of Cox, who promised to speak to the actor about it.
"That's part of the Servant fantasy," says Cox.
"I fantasise we'll get hold of Brian Cox and, of course, it did happen."
Cox thought he would help the "struggling Dundee writer" and agreed to do the radio plays.
He says he had very little time to prepare, but when he went into the studio to do it, he was "in hysterics".
"I thought this is the funniest thing I have done in years," he says.
Cox says the character of Bob Servant was very familiar to him.
"When I was doing the radio, it kept reminding me of someone and I thought 'who is this?'," he says.
"Then I realised it was my brother, Charlie. My brother was a very funny man, but he had this fantasy life and I think there is a lot of characters like that in Dundee."
His late brother, who ran a grocer's shop in Monifieth, a few miles east of Broughty Ferry, was eight years older than Cox.
"Charlie's indomitable spirit was like Bob's indomitable spirit," he says.
"He could not be put down. He used to say to my wife 'what's a braw looking lassie like you doing wi' a pig like him?'."
Although Bob Servant is set in the world of politics "it is not the Thick of it", says Cox.
"It would be very interesting to see Bob Servant in that world, meeting Malcolm Tucker, that would be an interesting stand-off."
Last year, Cox got involved in politics himself when he stood on a platform at the launch of Yes Scotland, which is campaigning for independence.
United states of Britain
Cox, who says he is an "anglophile", has had enough of "Old Etonians running the country".
The actor says he is a socialist and has always been a Labour supporter, but he believes that the time is right for "a redefining of the United Kingdom and maybe having a United States of Britain or United Federation of Britain".
He came in for some criticism, along with fellow Scottish actor Alan Cumming, for living in the US and not being a resident of Scotland.
But Cox insists the recent work in his native land is not motivated by a desire to be seen to be in Scotland more often.
"It has organically happened," he says.
"I did a documentary series here last year (Addicted to Pleasure) and I loved it.
"I have done the McLevy radio series here over the years and I am rector of Dundee University, so I have found I am here more often."
He adds: "If I was younger, I would wonder if it was the right thing to do, but the nice thing about being older is I don't give a bugger.
"I am just interested in doing the work. It's a great feeling of liberation."
Bob Servant Independent begins on BBC Four on Wednesday 23 January at 22:00. It will be repeated on BBC Two in Scotland on Friday at 22:00.