Lynda Spence trial: Torture and murder trial deserted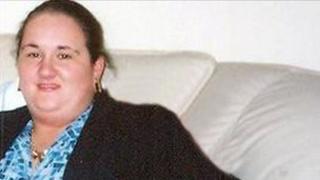 The trial of four men accused of abducting, torturing and murdering a financial advisor has been deserted.
Judge Lord Pentland halted proceedings at the High Court in Glasgow after a problem emerged with one of the jurors.
Lynda Spence, whose body has never been found, went missing in April 2011. David Parker, 37, Paul Smith, 46, Philip Wade, 41, and Colin Coats, 41, deny the charges against them.
The trial is expected to start again later this week with a new jury.
'Unexpected difficulties'
The trial, which began on Monday and is expected to last at least 11 weeks, was halted after a member of the jury was unable to continue for personal reasons.
Judge Lord Pentland dismissed the jury of 10 men and five women, saying it was due to "unforeseeable and unexpected difficulties which had arisen".
The judge said it would have been possible to have continued with 14 jurors.
But given the length of the trial and the fact no witnesses had given evidence, he said: "It was the unanimous view of all concerned to discharge the jury and start again tomorrow."
Miss Spence was 27 when she was reported missing in May 2011.