Education and social work to avoid Glasgow City Council cuts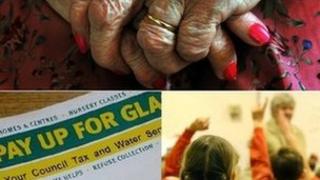 Education and social work are to be protected from cuts "in relative terms" by Glasgow City Council.
Scotland's largest local authority made the pledge while setting out its budget proposals for the next two years.
The plans include an £80m investment in the city's primary school estate, £11m for child care and a commitment for two new care homes.
The council said it had to make more than £70m in savings but could still invest due to "prudent stewardship".
Council treasurer Councillor Paul Rooney said: "Our budgets are under intense pressure, but we can't afford to think small.
'Substantial savings'
"This is a time to focus on our priorities and invest in our people - in education, in communities and in infrastructure.
"We are able to do that because of our effective and prudent stewardship of this council in recent years."
The council said that it still had to "make substantial savings" as the Scottish government had "slashed the city's share of the national pot".
Initial plans were for each department to make savings of about 5% to hit the £70.3m target over the next two years.
The budget proposals, however, claim to "protect education and social work in relative terms".
Mr Rooney added: "We have had to be innovative and we have had to be bold, but the difficult decisions we took yesterday are paying dividends today as we strive to protect frontline services."
Care homes
A project to refurbish or rebuild all of Glasgow's primary schools will see the council commit £40m in each of the next two years.
More than £5m is being earmarked for the building and running of new residential care homes for children over the next two years.
The authority also said it hoped to free up more than £4m to increase the number of foster and adoptive parents.
Other budget measures propose spending an additional £8m per year on roads.
Funding will also be made available for parks, lighting and bridges, the creation of mandatory 20mph zones, and new running trails.
The budget also commits "multi-million pound funding for the regeneration of Sighthill" area which has been earmarked for development as part of the city's Youth Olympics bid.