Martin Magee jailed for life for Hugh Porteous murder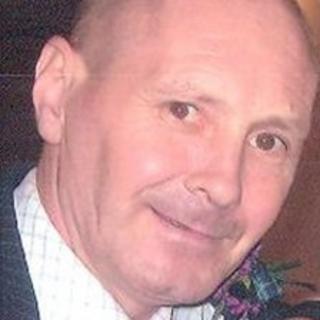 A man has been given a life sentence after being convicted of murdering a painter and decorator during a robbery at a flat in Greenock, Inverclyde.
Martin Magee, 39, was found guilty of stabbing Hugh Porteous, 49, through the heart on 22 August 2011.
Mr Porteous was there to price a job when Magee and another man burst in and demanded money and drugs. The victim was stabbed and two others were hurt.
At the High Court in Edinburgh, Magee was jailed for a minimum of 22 years.
A previous hearing at the High Court in Glasgow heard how the flat in Neil Street was a drugs den.
Mr Porteous was said to have been in the wrong place at the wrong time when he went to price a job for the occupant, David Rice.
Drugs raid
While he was there, Magee and the other man burst in, demanded drugs and money and threatened to cut off Mr Rice's fingers.
They then struck him on the head with a machete and a knife before attacking James Kane and assaulting Jacqueline Branchfield by threatening her with a baseball bat.
The court was told that Mr Porteous was stabbed once in the side and the blade sliced through his heart.
Jailing Magee, judge Lady Scott pointed out that Mr Porteous had no connection with drugs.
She said it was clear that members of the victim's family had been left "devastated" by his murder.
The judge told Magee that she had to take into account in sentencing him "the deliberate and vicious nature of this lethal attack".
Following Magee's conviction, procurator fiscal Fiona Holligan, said: "This was a brutal murder of a man who was going about his day to day business.
"Magee and his accomplices had gone to the flat seeking drugs and money from another man.
'Family devastated'
"That Mr Porteous was caught up in this violent episode and lost his life as a result is a tragedy for his family."
Det Insp David Wagstaff, of Strathclyde Police, said he was "satisfied" with the length of sentence handed to Magee.
He said: "Hugh was a well known and respected member of the Greenock community, and by simply visiting a flat in Neil Street in August 2011 he was brutally attacked by Martin Magee in which he lost his life at only 49 years of age.
"The actions of Magee have left Hugh's family devastated and their life will never be the same again.
"I hope that today's sentencing has provided them with a degree of comfort knowing that Magee will be behind bars for a considerable length of time."