Lynda Spence trial: Missing woman 'ripped people off'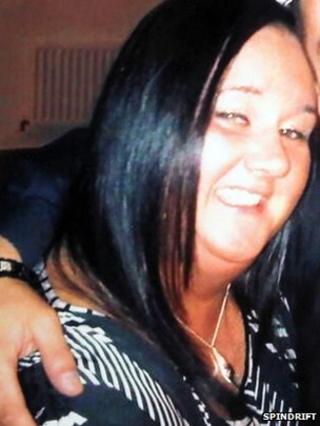 The trial of four men accused of abducting, torturing and murdering a missing financial adviser has heard claims that she "ripped people off".
Amanda Robertson told the High Court in Glasgow that her friend Lynda Spence drank champagne and entertained friends lavishly at casinos and restaurants.
David Parker, Paul Smith, Philip Wade and Colin Coats deny killing 27-year-old Glaswegian Ms Spence in May 2011.
The trial before judge Lord Pentland continues.
Ms Robertson, 29, who was Ms Spence's best friend from secondary school, gave evidence for a second day at the trial.
'Dodgy' deals
She previously told the court that she worked for a company, Fraser Properties, set up by Ms Spence in Great Western Road, Glasgow, as an office worker.
Ms Robertson left in September 2010 after many customers began to complain about the mortgage and lettings company.
While being questioned by Derek Ogg QC, who is representing Mr Coats, Ms Robertson agreed that many of her friend's business dealings appeared "dodgy".
The court heard that Ms Robertson sent a text to a friend about Ms Spence saying: "She'll never get what's coming. Just the people around her suffer."
She agreed with Mr Ogg that Ms Spence had taken deposits of £3,000 in cash per flat from 30 Chinese people for a development at Lochburn Gate, Glasgow.
Mr Ogg said: "No reservations fee had been paid for a single flat at Lochburn Gate by Ms Spence, what happened to the money?" Ms Robertson replied: "She spent it."
The QC added: "We are talking about a considerable amount of money," and she said: "Yes."
Ms Robertson added that she had never seen Ms Spence do any banking of cash.
The jury was told that Ms Spence was also involved in a scheme at Stansted Airport in London which she boasted would "make her millions."
The court heard, however, that nothing came of it or another project in Spain.
'Uncle Ben'
The jury was told that after the Stansted Airport deal fell through a man called John Glen began phoning repeatedly looking for Ms Spence.
At one point Ms Robertson said she was told to meet Mr Glen in Byres Road and hand over £15,000 in cash while he sat in his car.
Ms Robertson also told of being asked to fly to London with documents which she handed over to a man known as "Uncle Ben" who she thought was Russian.
The court heard Ms Spence also borrowed money from murder accused Colin Coat's parents' funeral fund and she had not paid her workers any wages.
Mr Ogg said: "There were a number of people with a grievance against her," and she replied: "Yes."
Ms Robertson said she left Ms Spence's company Fraser Properties around September 2010, but continued to spy on her through her emails as she knew the password.
She said that after many years of being a loyal friend to Ms Spence, her attitude had changed.
Mr Ogg asked her: "Did she have a nice personality," and Ms Robertson said: "Yes."
He then said: "Although she was a compulsive liar, she was a very nice person," and she agreed.
The QC added: "Did she buy champagne, Cristal champagne, go to casinos and take people out for dinner, flash her money about," and Ms Robertson said: "Yes."
Hug from accused
Ms Robertson said that Mr Coats was one of the people that Ms Spence entertained to dinner and she said the last time she saw the two of them together he had given Ms Spence a hug.
She revealed that on an earlier occasion Mr Coats had given Ms Spence cash and when she got back to her office in Glasgow, she noticed that it was short.
Ms Robertson told Solicitor General Lesley Thomson QC, prosecuting, that Ms Spence told her she was going to phone Mr Coats about it.
She added: "When she came off the phone she said Colin was going to deal with it and said fingers were getting broken."
Ms Thomson asked: "What was Ms Spence's attitude," and she replied: "She wasn't angry. She was kind of laughing."
She told the court that when Ms Spence first went missing she thought she had just run off, but changed her mind later.
The court was told that Ms Spence met up with Sokal Zefraj again in 2009 after a chance meeting and went to Albania to marry him after breaking up with her partner Kate Reilly.
Mr Ogg asked Ms Robertson: "When Lynda Spence told you she had married Sokal Zefraj did she say that it was a marriage of convenience so that she could use his name?" She replied: "Yes."
The QC then said: "From your knowledge of Linda and all the emails of hers that you spied on was she someone who ripped people off?" She replied: "Yes."