Lynda Spence trial: Accused denies harming missing woman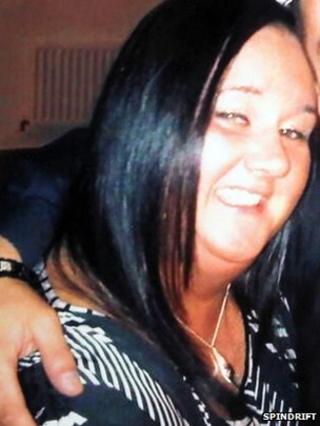 One of four men accused of abducting, torturing and murdering missing financial adviser Lynda Spence told police that he never harmed her.
David Parker, 37, claimed he only "fed her, gave her tea, smokes" while she was being held captive at his home.
In a tape, which was played at the High Court in Glasgow, he said Ms Spence was frightened and bound to a chair by tape and occasionally beaten.
Mr Parker, Paul Smith, 47, Colin Coats, 42, and Philip Wade, 42, deny murder.
The men are accused of abducting Ms Spence and torturing her at Mr Parker's flat in Meadowfoot Road, West Kilbride, between 14 and 28 April 2011.
Financial information
It is claimed they murdered her after torturing her to obtain financial information and then cut off her head and disposed of her body.
During his interview at Saltcoats police station on 31 October 2011, Mr Parker told detectives: "I had no part in hurting her or anything like that at all. I fed her, gave her tea, smokes."
Mr Parker said that he had been asked by his friend, Mr Smith, if someone who was in trouble and owed money, could be kept at his flat.
He added: "I didn't know what it was about at the time. He said it might happen and might not happen. A day or two after that he said the thing was on.
"I took him up to my flat and he said people would be coming soon."
In the taped interview, he said that a woman was brought to the flat who he later found out was Ms Spence.
Mr Parker said he was frightened of Mr Coats and a man he only knew as Philip and claimed that during the time Ms Spence was at his flat, hacksaw blades were pushed through his letterbox.
He told detectives: "When they put the hacksaw blades through my door I realised it was high-duty serious."
Replying to police questions about how Ms Spence was physically, he replied: "A couple of bruises on her face, I think.
"I didn't want to look at her. I didn't ask for this. I had no idea how serious it was."
'Frightened state'
Mr Parker told police that Ms Spence "was stuck in the chair and taped".
He said she had been taped around her torso and there was also tape around the chair.
"She was in a frightened state," he told police.
During the interview, Mr Parker was told the police had information that she had more injuries than a couple of bruises and he said: "I know she was injured, but I didn't know in what way. I didn't want to know."
Minutes later Mr Parker added: "I think she was punched about quite a bit."
He claimed that Mr Coats, and the man he called Philip, would arrive and go upstairs and speak to Ms Spence, while he and Mr Smith were downstairs.
Mr Parker was asked if he had seen Ms Spence being assaulted and said he had not, but added: "I could hear it from downstairs."
Events 'snowballing'
The accused claimed to police that he was to receive £1,500 for allowing his home to be used.
He recalled events "snowballing" and becoming what he described as "a train-wreck".
The trial also heard claims that Ms Spence was burnt with an iron.
Mr Parker insisted to the detectives that she was alive when he last saw her.
He was asked if he had he done anything to prevent her being harmed and he replied: "No, I was scared."
Mr Parker claimed, when he later viewed pictures of Ms Spence in the media, he did not recognise her as being the same woman in his house.
The trial before judge Lord Pentland continues.