Evacuation in Beith after petrol leak in drainage system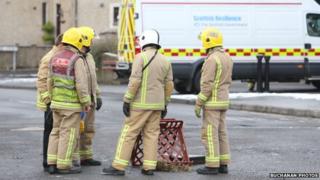 Homes and businesses in Beith were evacuated earlier after a petroleum leak in the town's drainage system.
Strathclyde Fire and Rescue Service was called to the North Ayrshire town about 09:00 after reports of a strong smell of petrol from local premises.
People who left their homes were bussed to a community hall in Kilbirnie.
The Scottish Environment Protection Agency (Sepa) later authorised fire crews to begin flushing drains to remove the spillage.
Dye added
Fire crews who arrived on the scene found the atmosphere was not explosive or flammable, but levels of petroleum vapour were high enough to cause headaches and nausea.
As well as officials from Sepa, public health officials from NHS Ayrshire and Arran were briefed on the incident.
The operation to remove the spillage, which involves a dye added to the water, got under way shortly after 15:00 on Tuesday.
Tests will be conducted to monitor petroleum vapour levels in the air before residents will be allowed to return to their homes.