McKie fingerprint expert Fiona McBride fails to win job back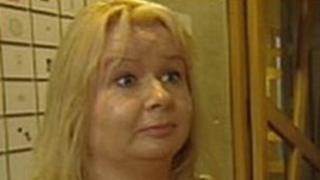 A fingerprint officer who was dismissed over the Shirley McKie scandal has failed in a bid to get her job back.
Fiona McBride, 46, was one of four experts who said a fingerprint left at a murder scene was that of Ms McKie.
Scottish ministers later accepted that a mistake was made and paid the former policewoman £750,000 in compensation.
Ms McBride appealed her sacking to the Court of Session. Judges ruled against re-instatement but said a tribunal should look again at compensation.
The case dates back to January 1997, when Ms McKie - then a detective constable with Strathclyde Police - was alleged to have left a fingerprint at a murder scene in Ayrshire.
Tribunal win
She denied defying orders to stay out of the house where Marion Ross's body had been found.
A perjury conviction was later overturned and Ms McKie was awarded £750,000 compensation and received an apology from the Scottish Police Services Authority (SPSA), accepting there had been an error in identifying the suspect fingerprint "Y7" as hers.
Ms McBride - who continues to insist there was no mistake - was dismissed in May 2007.
Almost two years later, an Employment Tribunal ruled that Ms McBride should be reinstated after finding that her dismissal was unfair because there had been a lack of proper consultation.
The SPSA - which by then had taken over fingerprint investigations from the previous Scottish Criminal Records Office (SCRO) - accepted the decision that the dismissal was unfair but challenged the order to give Ms McBride her job back.
The case went to an Employment Appeal Tribunal, which ruled in favour of the SPSA.
Ms McBride then took her fight to the Court of Session in Edinburgh.
Lady Paton, sitting with Lady Dorrian and Lord McGhie, heard that, in the wake of the Shirley McKie row, Ms McBride - and other colleagues from the SCRO's Glasgow office who had been suspended - were taken back but underwent a year or more of re-training.
But, at the end of it, they were still not allowed to sign joint reports or give evidence in court.
Prosecutors feared that dragging up the previous "misidentification" in court could damage chances of securing convictions.
Public confidence
As the SPSA prepared to take over the fingerprint and other forensic services, Asst Ch Constable David Mulhearn wanted to put the McKie controversy and an unfavourable report from HM Inspector of Constabulary behind him.
He was determined to set up a new organisation that would retain public confidence.
"It is clear that he did not think this objective would be assisted by retaining the services of the appellant (Ms McBride) as a fingerprint officer," noted Lady Dorrian.
The judges heard that she might have been redeployed within Strathclyde Police or offered a severance package.
However, Ms McBride insisted she wanted her old job back and she wanted to go back to being a court-going expert.
The judges also heard that Ms McBride continued to maintain that she had correctly identified "Y7" as Ms McKie's fingerprint in spite of "a wealth of contradictory opinion".
This had led to clashes with Mr Mulhearn, who had spoken on TV about the "misidentification" causing public concern about the quality of work by fingerprint experts.
The Court of Session judges ruled against re-instatement but said a tribunal should look again at the question of compensation for Ms McBride - taking into account whether or not she might have contributed to her sacking.