Lynda Spence trial: Murder accused 'made threat' to parents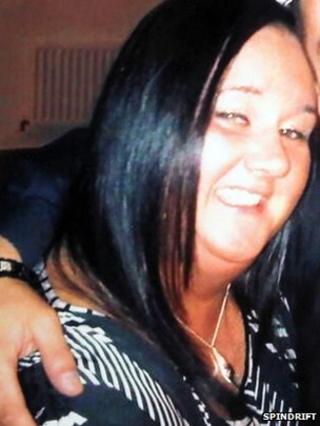 One of four men accused of murdering missing financial advisor Lynda Spence warned her parents not to go to the police, a court has heard.
Patricia and James Spence told the High Court in Glasgow that Colin Coats came to their home days after their daughter disappeared in April 2011.
He is alleged to have warned them off contacting the police after he told them their daughter owed him £10,000.
Mr Coats, David Parker, Paul Smith and Philip Wade deny murder.
The four men are charged with abducting, torturing and murdering Ms Spence at a flat in West Kilbride in April 2011.
The court heard that Mr Coats went to Ms Spence's parents' home with Tony Kelly - a former colleague of the missing financial advisor.
Mr Spence said that Mr Coats had already told them that his daughter owed him £10,000 and had pawned two of his watches.
'UDA people'
The accused is also said to have claimed that she had allegedly given £200,000 to another man, John Glen.
Mr Spence said that he asked Mr Coats if he knew where his daughter was and he said he did not know.
He added: "My wife said: 'If she has stolen your money I'm going to report you to the police, she had no right stealing money'."
Mr Spence was asked what Mr Coats' reaction was and replied: "His reaction was to jump up and bang the couch and he said: 'If the polis look into my computer I'll get years and don't forget I've got UDA people and London people.'"
Mr Spence, 68, also told the court of his last phone call with his daughter, which took place on 20 April - almost a week after she went missing.
He told solicitor General Lesley Thomson QC, prosecuting, that he and his wife were on their way to Morrisons supermarket in Partick, Glasgow, when the phone rang.
He said it was his daughter, whom he and his wife refer to as "the wean".
Mr Spence told the jury: "My wife got very upset and I had to get the phone off her. She asked where we were and I said: 'Just outside Morrisons."
"I asked where are you and she said: 'I'm in the Edgware Road (London). She seemed normal."
Mr Spence was asked by Ms Thomson: "Were you reassured by this," and he replied: "No because she wouldn't tell me where she was in Edgware Road, or an address or anything."
Missing phone
He said that after this call he and his wife had no contact with Ms Spence by phone or text.
Earlier his wife Patricia, 56, broke down in tears after revealing that she received a phone call from one of Ms Spence's phones on 2 June 2011.
She said: "I got a phone call from a lady. She said: 'I'm calling mum. I've found this phone.'
"I said have you seen my daughter. Is she there."
The court heard that the phone was found in a bin at a cafe in Kilbirnie, Ayrshire, and was taken to the police by the woman who found it.
Mrs Spence said that she and her husband immediately went to the police station and told them all they knew about Mr Coats and their daughter's business dealings.
She claimed in court that Mr Coats told her that Ms Spence was "a scumbag" and branded him "a bully".
'London boys'
Under cross-examination by Derek Ogg QC, representing Mr Coats, Mrs Spence was asked: "I'm interested in your husband's connections with criminals," and she replied: "He doesn't have connections. He doesn't have anything like gangster connections."
Mrs Spence was then asked why she had never told the Solicitor General, the procurator fiscal or the police about Mr Coats referring to "the London boys" and she replied: "Maybe I'm getting mixed up."
But she said that Mr Coats told her and her husband not to call the police and added: "He told us not to, warned us not to go to the police."
Mrs Spence said that even when they reported their daughter missing they did not tell the police everything.
It was only after her phone was found they mentioned Mr Coats.
The trial before judge Lord Pentland continues.