Lynda Spence trial: Flooring 'replaced in torture flat'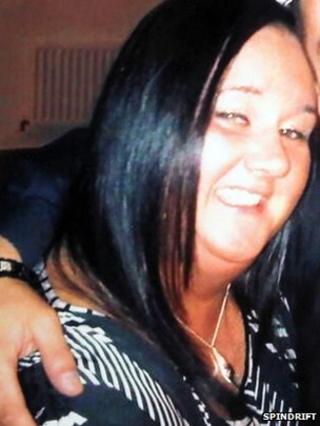 The Lynda Spence murder trial has heard "new" pieces of flooring were fitted to a room where the financial adviser was allegedly tortured and killed.
Police investigating the disappearance of Ms Spence, 27, in April 2011 noticed different floorboards during a search of a flat in West Kilbride, Ayrshire.
Accused David Parker, 38, told police that the loft conversion space in his home was used to hold Ms Spence.
Mr Parker, Philip Wade, Colin Coats and Paul Smith deny murdering Ms Spence.
Jurors were last week shown video footage of the loft space of the flat in Meadowfoot Road and police pictures of two blood spots in the bathroom area.
'Different floorboards'
It is alleged that during the fortnight she was held hostage, Ms Spence was burned with cigarettes and an iron, was thrashed on the legs with a golf club and had her thumb cut off.
Prosecutors claim that after she was murdered, the men used bleach to clean the flat, removed carpets and floorboards and set fire to some of the property's contents.
Det Con James McAteer, 38, from Strathclyde Police, who examined the flat told the trial at the High Court in Glasgow that he noticed "a few different floorboards".
Looking at a number of lettered floorboards shown in a photograph to the court, he said: "I felt that A, B and C had not been fitted by a tradesman but D had been."
Owner of the flat, James Dillon, 42, who rented it to Mr Parker for several years, identified "two new pieces of flooring that I never fitted" when shown a photograph of a section of the floor.
Water damage
"A, B and C are new pieces of flooring," he said.
Joiner Mr Dillon said he had renovated the bathroom in October or November 2010 after a leaking pipe caused damage.
He carried out further work following a burst pipe at the property a few months later.
Derek Ogg QC, defending Mr Coats, suggested that water damage would have made the carpets "smelly".
Mr Dillon said he had thoroughly cleaned the flat when he had carried out the work.
Mr Ogg asked the witness: "Both events would have given rise to rubble and rubbish in the back garden?" Mr Dillon agreed.
The trial before Lord Pentland continues.