Chef Peter Cumming jailed for murdering Lynda Brown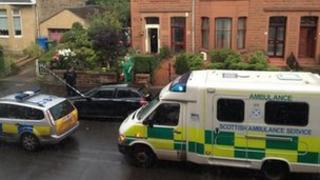 A chef from Glasgow who murdered his partner before a dinner party after she told him that she had already eaten has been jailed for life.
Peter Cumming stabbed Lynda Brown, 63, four times in the back at their home in Shawlands on 1 September 2012.
The 58-year-old, who has previous convictions for domestic abuse towards Ms Brown, pleaded guilty to murder.
At the High Court in Glasgow, Cumming was told that he must serve a minimum of 14 years in prison.
A previous hearing was told that Ms Brown and Cumming had planned a dinner party and invited two friends Trevor and Rosemary Clarke.
'Something snapped'
When Cumming returned after buying ingredients for the meal he claimed that Ms Brown told him that she had already eaten and this made him "really angry".
Cumming said that he and Ms Brown had exchanged words during which "something snapped".
He added: "I was in behind her in the bedroom and I had the knife and I don't know where it came from, I don't know. I was out of control. It's just not like me. I am so in control. I need to keep things in control."
Cumming alleged that Ms Brown reacted to his anger by goading him and said he picked up a large kitchen knife and plunged it into her.
He said he stabbed her once while she was standing and then once again as she lay on the ground.
Cumming told police that Ms Brown, who was 5ft 3in tall and weighed eight and a half stones (54kg), had not attacked him.
Advocate depute Andrew Miller, prosecuting, said that a post-mortem examination revealed she had been stabbed four times in the back.
The fatal wound went through Ms Brown's neck severing an artery and causing massive blood loss.
Ms Brown managed to dial 999 before the fatal attack and told the operator: "My partner's threatening me with a knife."
Relationship tensions
When police officers arrived at the flat eight minutes later they found Ms Brown lying dead on the bedroom floor with a knife embedded in her back.
Minutes later, Mr and Mrs Clarke arrived for the dinner party and discovered their hostess was dead and their host in handcuffs.
The court was told that there were tensions in the relationship between Mr Cumming and Ms Brown due to his drinking.
He had convictions for domestic abuse towards Ms Brown, who worked at Glasgow University's biochemistry department.
Jailing him for life, judge Lord Bannatyne told Cumming: "This was in any view a pretty senseless crime which has had a huge impact on the family of the victim.
"This was in my view a particularly nasty murder. A vicious attack on a defenceless woman with a deadly weapon - a knife. In this case the victim was entirely innocent."