'Rockstar' drug hospitalises seven in Lanarkshire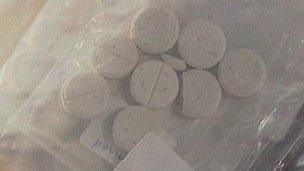 Taking a drug called "Rockstar" has led to seven people in the Glasgow area being hospitalised over the weekend - and to a public warning from police.
Strathclyde Police describe it as a potentially deadly substance.
The red or yellow coloured tablets are being sold as ecstasy and have a star impression on them.
"The exact contents of the pills are unknown, but they could, from past experience, contain a cocktail of different substances," say police.
An investigation has been launched by the police along with health officials and medical staff.
Chief Insp Fraser Lamb said: "These substances are unreliable, unpredictable and potentially very dangerous.
"Users may believe that they have taken ecstasy and it is very likely that they will suffer from a significant negative reaction.
"Symptoms reported recently include increased heart rate, elevated core temperature and seizures.
"These pills are not covered by any form of quality control and this is supported by past forensic analysis."
All seven people affected had suffered adverse reactions to taking the pills but have since left hospital.
However, Chief Insp Lamb stressed: "Users need to be aware of the dangers and understand the potentially devastating effect these pills can have on their health.
"We are continuing to take this matter extremely seriously and extensive police enquiries are ongoing to establish the source of these drugs and every effort is being made to track down and arrest those responsible for selling these drugs as quickly as possible.
"Additional patrols have been deployed in the Lanarkshire area."