Trainers in classroom campaign for Commonwealth Games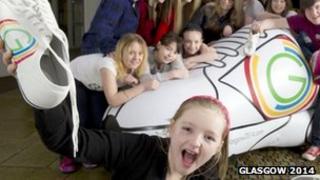 Pupils and teachers are being urged to swap their normal footwear for trainers in the classroom to show support for the 2014 Glasgow Commonwealth Games.
The Sport Your Trainers campaign will be promoted in schools across the country by games mascot, Clyde.
Events are being co-ordinated around Commonwealth Day on 11 March.
Games organiser Glasgow 2014 hopes to encourage young people to take part in sport or learn about some of the 71 Commonwealth nations and territories.
'Surprise visit'
Paul Zealey, Glasgow 2014 head of engagement and legacy, said: "Glasgow 2014's Sport Your Trainers campaign has been hugely successful over the past two years and now that we have unveiled our official Games mascot Clyde, we want young people across all 32 local authorities in Scotland to sport their trainers with him.
"On March 11, Commonwealth Day, pupils across the country will be encouraged to wear their trainers to school and Clyde will be popping up in several places for a surprise visit.
"The 2013 Sport Your Trainers campaign is an opportunity for young people to join in and feel part of the exciting journey to Glasgow 2014, the largest multi-sport event Scotland has ever seen."
The 20th Commonwealth Games will be held in Glasgow from 23 July to 3 August 2014.