Wee Man actor Daniel Kerr becomes youngest Bafta winner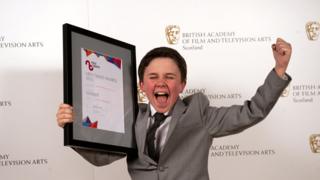 The 12-year-old boy who played a young Paul Ferris in the film The Wee Man has become the youngest ever winner of a Bafta for up-and-coming talent.
Daniel Kerr, from Glasgow, scooped the prize for best performance at the Bafta in Scotland New Talent Awards.
The Wee Man, which also stared Martin Compston, tells the story of how Ferris entered Glasgow's crime underworld.
After he was nominated, Kerr said he had never imagined he would be in the running for an award.
The Bafta New Talent Awards, which were held in Glasgow, recognise stand-out work across several categories - including acting, writing and animation.
The winner of Bafta's Factual category was recovering heroin addict and film director Garry Fraser for his documentary Everybody's Child.
The film sees Fraser return to the community where he grew up and face the damage that crime and drugs inflicted on his life.
Hannah and the Moon was named Best New Work and other prizes went to Kate Charter and Joseph Atkinson in the Animation category.
The State of Greenock, a satirical "mockumentary" set in Greenock in the year 2020 and imagining the town as independent from the rest of the UK, took the Entertainment award.
Alan de Pellette, acting director of Bafta in Scotland, said: "Bafta is at the core of excellence in the screen industries and we are so proud to recognise and celebrate up-and-coming talent in Scotland.
"It's exciting and to see the next generation of our film, television and games industries bursting onto the scene and for Bafta in Scotland to be part of their journey."
The panellists included former Bafta winners including as Zam Salim, who won Best Director at last year's Bafta in Scotland awards.